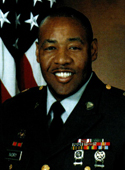 9/11 Pentagon Memorial Heroes
SGM Lacey B. Ivory, USA
Born November 15, 1958, 42 years old
Lacey B. Ivory was born on November 15, 1958 in Marvell, Arkansas, the third of eight children born to John Ivory and Reola Gage. At the age of two, Lacey's family relocated to Kansas City, where he attended public schools, graduated from Manual High School, and joined the Army in 1977. 
Lacey continued his education while serving in the Army where he earned an Associate of Science degree from Des Moines Area Community College, the Bachelor of Science degree from The University of the State of New York, and had recently received his Master's of Education in Counseling from the University of Maryland European Division. Most significant about Lacey's educational accomplishments is that all the degrees were completed simultaneously while performing military duties which often entailed working long hours (including weekends), deployments to perform military contingency missions, and attending basic military schooling. When asked what the most difficult aspect of his educational experience was, Lacey replied, "I found it most difficult to find time for conducting research and studying for school projects, spending quality time with family, and maintaining military skills needed to perform adequately on the job." 
Lacey served 24 years in the Army, culminating his career as the Senior Enlisted Military Assistant in the Office of the Assistant Secretary of the Army for Manpower and Reserve Affairs. His previous assignments include: two tours of duty at Fort Riley, Kansas; The Reception Station at Fort Jackson, South Carolina; two tours in Germany which included assignments in Headquarters USAREUR and 7th Army, and the 510th Personnel Services Battalion; U.S. Army Recruiting Command, Des Moines, Iowa; U.S. Army Readiness Group, Fort Benjamin Harrison, Indiana; and the U.S. Army Space Command, Peterson Air Force Base, Colorado. 
His current awards and decorations include: the Purple Heart, Legion of Merit, Meritorious Service Medal with three Oak Leaf Clusters, the Army Commendation Medal with three Oak Leaf Clusters, the Army Achievement Medal with four Oak Leaf Clusters, and the Army Good Conduct Medal (seventh Award). 
Lacey was very active in churches and chapels throughout his military career. He was a founding member of the Heidelberg Gospel Service and served as a Deacon at Emmanuel Missionary Baptist Church, Colorado Springs, Colorado. He was always eager to mentor young people, both civilian and military, and he served faithfully in the Big Brothers Program. Upon retirement, Lacey planned to pursue a second career as a teacher or counselor working with adolescents at the high school level or working with troubled youth at the state level in the mental health arena. Due to his successes in life, Lacey's long-term goal was to write a book explaining how ordinary people could be successful in life without making millions. 
SGM Ivory is survived by his wife, Lieutenant Colonel Deborah W. Ivory; four daughters, Adenika, Maisha, Quawana and Rashida; one granddaughter, Quashawna; one grandson, Quandale Bernard; his parents, John and Redia Ivory; and seven siblings.
9/11 Pentagon Memorial Heroes
Meet the Heroes
The Pentagon Memorial was created to remember and honor those family members and friends who are no longer with us because of the events of September 11th, 2001 at the Pentagon.