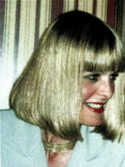 9/11 Pentagon Memorial Heroes
Sandra C. Taylor
Born October 8, 1950, 50 years old
Sandra Carol Taylor was a fifty-year-old mother, fiancée, daughter, sister, volunteer, lover of life and friend to many when she was killed on September 11, 2001.
She was born Sandra Carol Fraser on October 8, 1950 in Somerville, Massachusetts, to her parents, Beverly and Harold Fraser. As her fiancé, Timothy Dudgeon, remembered, "she was a child of the 60s, a lover of family, a lover of friends, and a lover of the less fortunate. Fixed on the past, Sandi was also anchored in the present."
She worked for the government for almost thirty years, and worked at the Pentagon for almost ten. Although she was very dedicated to her daily job, it did not define her as a person. She was very interested in serving others. She began her work as a volunteer at the Women's Center in Vienna, Virginia and then became a volunteer at the Hospice of Northern Virginia in 1998 where she shared her time until her death.
So many things made her happy. She loved being near the ocean and enjoyed spending her summers in Rehoboth Beach, Delaware with her many friends. She loved driving in her convertible with the top down, listening to music. She loved holidays, when friends and family would gather together and celebrate. She loved to travel, whether backpacking through Europe in the 70s or spending time in Hawaii and the Caribbean. But, throughout her life, her main focus was her daughter, Samantha, for whom she was always a constant cheerleader, best friend and supportive mother.
In addition to her daughter, Samantha Taylor, of New York City, and her fiancé, Timothy Dudgeon of Falls Church, Virginia, Sandra Taylor also leaves behind devoted brother, Wayne Fraser of Centerville, Massachusetts; her first husband, Thomas Taylor, of Alexandria, Virginia. For all those who shared a part of her life, we will greatly miss her warmth and generosity. Sandra Taylor's spirit, her love, her outlook on life and especially her smile will live in our hearts forever!
9/11 Pentagon Memorial Heroes
Meet the Heroes
The Pentagon Memorial was created to remember and honor those family members and friends who are no longer with us because of the events of September 11th, 2001 at the Pentagon.