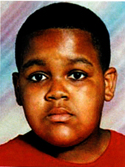 9/11 Pentagon Memorial Heroes
Rodney Dickens
Born February 20, 1990, 11 years old
Rodney Dickens grew up in tough Washington neighborhoods where danger lurks on most every corner, but he avoided it.
Then he went to Dulles International Airport with a teacher from Ketcham Elementary School, boarded American Airlines Flight 77 to California, and became part of the deadliest tragedy in U.S. history.
Rodney was an 11-year-old sixth-grader who had always made the honor roll, as have his two sisters – one a year older, one a year younger. His little brothers, ages six and four, will be expected to do the same thing.
Rodney loved reading, playing computer games, and playing with his siblings. He was close to his mother, LaShawn, who is raising the youngsters as a single parent, with the help of her large extended family.
But his favorite thing in the world, said his aunt, Cynthia Dickens, was watching professional wrestling on televi- sion. He'd watch in the family apartment in Congress Heights and his grandmother's apartment a few blocks away. He'd go to his uncle's house to catch pay-per-view.
"I don't care what he was doing, he made it home to see wrestling," Cynthia Dickens said.
9/11 Pentagon Memorial Heroes
Meet the Heroes
The Pentagon Memorial was created to remember and honor those family members and friends who are no longer with us because of the events of September 11th, 2001 at the Pentagon.