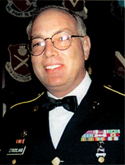 9/11 Pentagon Memorial Heroes
SGM Larry L. Strickland, USA
Born February 14, 1949, 52 years old
Sergeant Major Larry Lee Strickland served as the senior enlisted advisor to the Deputy Chief of Staff for Personnel since November 1990. He had over 29 years of service and was 52 years old. SGM Strickland was scheduled to retire upon completion of 30 years of service.
SGM Larry Strickland was born on February 14, 1949 in Bellingham, Washington. He attended the University of Washington for three years before enlisting in the Army in May 1972. He completed his Bachelor of Science degree while in the Army from Regents College of New York.
SGM Strickland served in assignments in all aspects of personnel administration, to include: 228th Adjutant General Postal Company, Germany; 9th Adjutant General Company, Fort Lewis, Washington; U.S. Army Military Personnel Center Europe; U.S. Army Engineer Command Support Group, Washington, DC; 1st Personnel Command, Germany; First Sergeant of the 379th Personnel Service Company, Heidelberg, Germany; and United States Army Sergeant's Major Academy, Fort Bliss, Texas, Class 30. He was assigned to the Army's Personnel Command in Alexandria, Virginia, serving as Sergeant Major of the Engineer Branch and the Signal Branch. He also worked as a member of the 1989 Noncommissioned Officer's Leader Development Task Force. In 1990, SGM Strickland was assigned to work in the Office of the Deputy Chief of Staff for Personnel. SGM Strickland's duties as the Sergeant Major of Deputy Chief of Staff for Personnel (DCSPER) primarily included providing advice on plans, policies and program changes that had potential impact on the enlisted force. SGM Strickland served under the leadership of six Deputy Chiefs of Staff of Personnel and was the liaison between the DCSPER and the Sergeant Major of the Army.
Sergeant Major Strickland's awards and decorations include: the Legion of Merit, four awards of the Meritorious Service Medal, two awards of the Army Commendation Medal, an award of the Army Achievement Medal, the Army General Staff Identification Badge, nine awards of the Good Conduct Medal, the National Defense Service Medal with Bronze Star, four awards of the Noncommissioned Officer Professional Development Medal, the Army Service Ribbon, three awards of the Overseas Service Ribbon and two awards of the Army Superior Unit Award.
His wife, Command Sergeant Major Debra Strickland, is the Garrison Command Sergeant Major of Fort Belvoir, Virginia. SGM Strickland has three adult children, Julia Dill, Matthew Strickland and Christopher Strickland. He has one grandson, Brendan Dill. His parents, Lee and Olga Strickland, reside in Washington State. His sister, Donna McBride, and her husband, Dean, reside in California.
9/11 Pentagon Memorial Heroes
Meet the Heroes
The Pentagon Memorial was created to remember and honor those family members and friends who are no longer with us because of the events of September 11th, 2001 at the Pentagon.