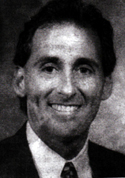 9/11 Pentagon Memorial Heroes
Todd H. Reuben
Born June 30, 1961, 40 years old
Todd Hayes Reuben, 40, of Potomac, Maryland, passenger on American Airlines Flight 77 that struck the Pentagon, was a corporate partner at the Washington law firm of Venable, Baetjer, and Howard. Todd specialized in tax and business transactions and was widely regarded by clients and colleagues as remarkably dedicated to the practice of law and outstanding in his field. Todd joined Venable in 2000 when it merged with the law firm of Tucker Flyer, where he had practiced since 1989 after graduating with honors from The George Washington University's National Law Center. Prior to law school, Todd was a certified public accountant at the Bethesda, Maryland accounting firm of Reznick, Fedder and Silverman, where he had practiced for three years after graduating in 1993 with a Bachelors of Business Administration from Emory University in Atlanta. Todd was a graduate of Churchill High School in Potomac, Maryland.
Todd's unmistakable passions in life were his family and sports. In addition to playing high school and college soccer, Todd was an avid fan of all local Washington sports teams, particularly the Redskins, Capitals, DC United and Maryland Terrapins. His greatest sports commitment, however, was coaching his cherished 11-year-old twin boys, Jason and Jeffrey, in basketball and soccer, at which they both now excel. In addition to his boys, Todd's greatest devotion was to his wife of 14 years, Vivian, whom he instantly befriended at Emory University, and later chose to share his life. Finally, not to be forgotten was Todd's steadfast devotion to his beloved golden retriever, Dudley, with whom he ran daily and enjoyed endlessly. Each member of Todd's family and all of his friends and professional colleagues had the same impression of him – that he was a great person who had all of his priorities in line: family first, then friends, and finally his law practice.
Todd Reuben is survived by his wife, Vivian; twin sons, Jason and Jeffrey; parents, S. Jesse and Carole Reuben of Potomac, Maryland; brother, Keith Reuben, and his wife, Whitney Ellenby of Bethesda, Maryland; sister, Stacey Mesa, and her husband, Shawn, of Gaithersburg, Maryland; grandmother, Evelyn Simon of Hollywood, Florida; many nieces and nephews; and in-laws, Werner and Gabriele Levy of New York, New York.
9/11 Pentagon Memorial Heroes
Meet the Heroes
The Pentagon Memorial was created to remember and honor those family members and friends who are no longer with us because of the events of September 11th, 2001 at the Pentagon.