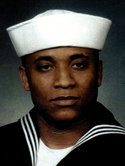 9/11 Pentagon Memorial Heroes
OS2 Nehamon Lyons IV, USN
Born March 4, 1971, 30 years old
Nehamon Lyons IV was born March 4, 1971 in Pine Bluff, Arkansas. He is survived by his mother, Jewel Lyons; sister, Sonya; and brothers, Rodney, Corey, Marquise and Christian. 
Nehamon graduated from Dollarway High School in 1989 and moved to Mobile, Alabama in 1990. He attended the University of South Alabama in Mobile for three years, pursuing a degree in medicine while working several jobs to pay for his education. Nehamon enlisted in the United States Navy in 1997. His first assignment was on the U.S.S. Gettysburg. He transferred to the Pentagon in January 2001 and was an Operations Specialist 2nd Class. 
Nehamon was a self-starter who would pursue a goal and work tirelessly to achieve it. He was a man, not because he was asked to be one, but because someone had to in his situation. 
Nehamon had a broad smile that greeted everyone and immediately put them at ease. His eager eyes assured you that he was listening and learning while you talked with him. In his absence, when people he met or worked with speak of him, the sametheme is repeated, "he was such a nice young man and would do anything you asked him to."
9/11 Pentagon Memorial Heroes
Meet the Heroes
The Pentagon Memorial was created to remember and honor those family members and friends who are no longer with us because of the events of September 11th, 2001 at the Pentagon.