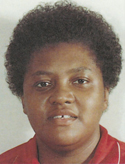 9/11 Pentagon Memorial Heroes
Odessa V. Morris
Born July 11, 1947, 54 years old
Odessa V. Morris, whose life was tragically cut short on September 11, 2001, was born on July 11, 1947 in Norfolk, Virginia. She was the fifth child of the late Winford and Odessa Lamb of Chesapeake, Virginia. 
Odessa graduated from George Washington Carver School in 1965 and attended Chesapeake Business College for a short time. Later she moved to Washington, DC, to reside with her sister, Ethel. Initially, she worked for a stationery company and then began working with the Federal Government, where she spent 32 years of her life. Her last position was as a budget analyst for the Army. During her years of work with the Department of Defense, she had a heightened sense for the importance of serving in the area of finance and worked diligently to fulfill her duties professionally and responsibly. In fact, work for her did not stop at the Pentagon, but continued at her home, where she was even more engrossed in developing new methods to better accomplish her tasks. She gave of herself freely; she even honed her skills to volunteer as a financial counselor to others. In addition, she was treasurer and a member of the board of trustees of the New Mt. Olivet Apostolic Church in Seat Pleasant, Maryland, where she worshipped until the time of her death. She relished cooking different dishes, a skill she learned from her mother. At varying times Odessa ventured into sewing, photography, and her last hobby, raising goats. 
September 11 is a culmination of several elevenths for Odessa: she entered this life on the 11th, got married on the 11th, anticipated a joyous celebration of her 25th anniversary on the 11th, and died on the 11th. 
Left to cherish her memory are Tony, her devoted husband; Dahlia, Jan-Sheri and Keith, her children; Demetrius, her grandson; Winford, Daniel and Joseph, her brothers; Ethel and Rachel, her sisters; Ora, her niece (more like sister than niece); Scottie and Frank, her brothers-in-law; Joyce, Rena and Debbie, her sisters-in-law; and a host of nieces, nephews, cousins and friends. ODESSA, we love you!!!!
9/11 Pentagon Memorial Heroes
Meet the Heroes
The Pentagon Memorial was created to remember and honor those family members and friends who are no longer with us because of the events of September 11th, 2001 at the Pentagon.