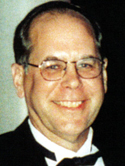 9/11 Pentagon Memorial Heroes
LTC Karl W. Teepe, USA, Retired
Born September 24, 1943, 57 years old
Karl William Teepe was born on September 24, 1943 in St. Louis, Missouri, the older of two sons of Ruth and the late Wilmer Teepe. He grew up in Jennings, Missouri and graduated from Riverview Gardens High School in Bellefontaine, where he was a member of the golf team. He received his Bachelor of Science degree in 1967 from the University of Illinois, and entered active duty as an air defense artillery Army officer. After just under two years on active duty, he left the service, but re-entered the Army in April 1971. He went on to serve with distinction for more than 20 additional years. He was a Reserve Officer Training Corps instructor at the University of Missouri in the mid 1970s, and received a Master of Business Administration degree from the University of Missouri in 1975.
Karl is a graduate of the U.S. Army Command and General Staff College, Fort Leavenworth, Kansas, and served in both Germany and South Korea. His military decorations include the Meritorious Service Medal with four Oak Leaf Clusters, the Army Commendation Medal, the National Defense Service Medal, the Bronze Service Star, the Armed Forces Expeditionary Medal, the Army Service Ribbon, and the Overseas Service Ribbon. He retired from the Army as a lieutenant colonel on September 1, 1991, with more than 22 years active duty. He immediately joined the Defense Intelligence Agency as a civilian financial resources manager in the Office of the Deputy Comptroller for Program and Budget. 
Karl and his wife, Donna, were married on June 9, 1967. They have two children, Wendy and Adam, both of whom are graduates of the College of William and Mary in Williamsburg, Virginia. It was clear to anyone who knew Karl that his family was the most important thing in his life. Karl particularly enjoyed the Smithsonian Institution and other activities on the Mall in Washington, DC. He would take the Metro from the Pentagon to the Mall on his lunch break, just to get away and enjoy the beauty. He was always engaged in a variety of projects at home, anxious to share his progress with Wendy and her husband. 
Mr. Teepe is survived by his wife, Donna; son, Adam; daughter, Wendy Green and her husband, Derek; his mother, Ruth; and brother, Kenneth, and his wife, Lynda.
9/11 Pentagon Memorial Heroes
Meet the Heroes
The Pentagon Memorial was created to remember and honor those family members and friends who are no longer with us because of the events of September 11th, 2001 at the Pentagon.