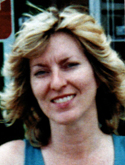 9/11 Pentagon Memorial Heroes
Judith L. Jones
Born July 24, 1948, 53 years old
The following is an email that Judy sent to some of her friends less than an hour before the attack on 11 September. I think [it] epitomizes the kind of friend she was to everyone. 
I feel that even in heaven, we can all count on her to be there throughout the years for us. 
– Michelle Bush, daughter 
You're…my friend, my companion, through good times and bad. My friend, my buddy, through happy and sad. Beside me you stand, beside me you walk, you're there to listen, you're there to talk, with happiness, with smiles, with pain and tears, I know you'll be there, throughout the years! 
You are all good friends to me and I am grateful to you.
9/11 Pentagon Memorial Heroes
Meet the Heroes
The Pentagon Memorial was created to remember and honor those family members and friends who are no longer with us because of the events of September 11th, 2001 at the Pentagon.