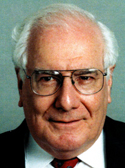 9/11 Pentagon Memorial Heroes
Stanley R. Hall
Born April 14, 1933, 68 years old
Stan Hall, 68, was onboard the American Airlines Flight 77, Tuesday, September 11, when it crashed into the Pentagon. He was born in Arlington, Virginia and attended Washington Lee High School. In 1953, Stan was drafted into the Army and served for two years during the Korean War. He was a graduate of George Washington University in DC, and Drexel University in Pennsylvania.
Stan was an active member of South Bay Church of God for 111/2 years. He was a Sunday school teacher and on the Board of Trustees.
He left his home in Rancho Palos Verdes six years ago to work at Raytheon's Washington, DC facility, where he was director of program management. He was on his way to the company's operations in Goleta.
Stan, a 17-year veteran of the company formerly known as Hughes, helped develop and build anti-radar technology. "He was our 'dean' of electronic warfare, and his objective was always the protection of American servicemen," colleagues remembered.
Stan is survived by his wife of 43 years, Judie; an adult son, Randy; two adult daughters, Jane and Susan; and five grandchildren.
9/11 Pentagon Memorial Heroes
Meet the Heroes
The Pentagon Memorial was created to remember and honor those family members and friends who are no longer with us because of the events of September 11th, 2001 at the Pentagon.