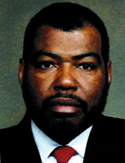 9/11 Pentagon Memorial Heroes
James D. Debeuneure
Born August 31, 1943, 58 years old
James Daniel Debeuneure, a resident of Upper Marlboro, Maryland, departed this life on Tuesday, September 11, 2001 as a result of the tragedy of American Airlines Flight 77. He was 58 years old. He was born to Sadie Virginia Debeuneure, who preceded him in death in 1961. He was raised by his grandmother, Hattie Green. James was a native of Whiteville, North Carolina, where he completed his education through high school. He received his B.A. in Psychology with a minor in Sociology from Johnson C. Smith University in 1966. James was an active member of the Kappa Alpha Psi Fraternity, the Johnson C. Smith Choir, and the Appreciations (a singing group).
Upon graduation, he was employed by the Charlotte Mecklenburg Board of Education as a Testing Specialist. Later he worked for the Celanese Corporation as an Equal Opportunity Specialist. In 1968, he was united in marriage to Frances Jant. Of this union he raised son, Jacques Debeuneure, and stepson, DeForrest B. Pratt II. In 1969, he was transferred with his family to DC and continued to work with the Celanese Corporation, and later with C&P Telephone Company. James was also employed with the Army Times, where he met and later married Linda D. Davis. Of this union, there is one child, Jalin Danielle Debeuneure. Linda preceded him in death in 1985. James left the Army Times to co-own and operate an upholstery and drapery shop with his mother-in-law, Ruth Lea, and raise his daughter, Jalin.
He became a member of First Baptist Church of Highland Park on July 14, 1985. James had a great love for educating youth, and utilized his teaching gift in Prince Georges County and Washington, DC. At the time of his death, he worked as a 5th grade teacher at Ketchum Elementary School in Washington, DC. While teaching at Ketchum he devoted much of his time to many activities, some of which included: sports, educational trips and student safety patrolling. As his mother-in-law, Ruth Lea, stated, "he was more of a mentor than a teacher." James' hobbies were golfing and collecting black art.
James leaves to cherish warm memories, one daughter, Jalin Debeuneure; two sons, Jacques Debeuneure and DeForrest Pratt; daughter-in-law, Trista R. Debeuneure; one grandson, Jacques Debeuneure, Jr.; two granddaughters, Juliahn D. Debeuneure, born February 4, 2002, and JaMonica Pratt; one brother, Billie Pankey; one uncle, Julius Debeuneure; an aunt, Dorothy Maultsby; a mother-in-law, Ruth Lea; and many close family and friends.
9/11 Pentagon Memorial Heroes
Meet the Heroes
The Pentagon Memorial was created to remember and honor those family members and friends who are no longer with us because of the events of September 11th, 2001 at the Pentagon.