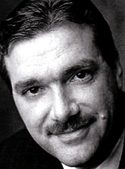 9/11 Pentagon Memorial Heroes
Steven D. Jacoby
Born December 11, 1957, 43 years old
On September 26, 2001 a memorial service was held at Good Shepherd Catholic Church in Mount Vernon, Virginia to celebrate the life of Steven D. "Jake" Jacoby. The service was a tribute to Jake's life and the kind of man he was – a loving husband, a wonderful father, a loyal friend and a community leader. He would have been pleased to know that everyone there left feeling inspired by the life he had lived, as well as consoled in their grief at his early leaving of us.
Mr. Jacoby was the Chief Operating Officer (COO) and Executive Vice President of Metrocall, Inc., one of the nation's largest wireless data and messaging providers. He held this position since 1994 when Metrocall merged with FirstPage USA, where he had been one of the founding partners, COO, Vice President and Corporate Secretary since 1988.
He served as a Director of the Board of MNET, a startup wireless Application Service Provider. Mr. Jacoby also sat on the Board of Men Against Breast Cancer and was actively involved with the Camp Fantastic Special Love Charity Golf Tournament, as well as Catholic Charities.
Mr. Jacoby graduated from Pennsylvania's Shippensburg University, where he earned a Bachelor's degree in Administration. He was a resident of Alexandria, Virginia and an active member of Good Shepherd Catholic Church.
"Jake, you were not a trained soldier, but you were truly a hero. Nick and I will always love you and remember the life we shared. We miss you. Your loving wife, Kim."
9/11 Pentagon Memorial Heroes
Meet the Heroes
The Pentagon Memorial was created to remember and honor those family members and friends who are no longer with us because of the events of September 11th, 2001 at the Pentagon.