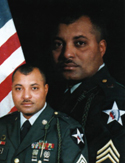 9/11 Pentagon Memorial Heroes
SFC Jose O. Calderon-Olmedo, USA
Born August 27, 1957, 44 years old
SFC Jose O. Calderon-Olmedo, USA, was born on August 27, 1957 in Fajardo, Puerto Rico. His family moved to nearby Rio Piedras, Puerto Rico, when he was a child. He attended William D. Boise Elementary and Middle School, and he graduated from Gabriel A. Mistral High School in 1978. From there he went on to college and attended the InterAmerican University in San Juan, Puerto Rico, where he earned a B.A. in Accounting.
SFC Calderon-Olmedo enlisted in the U.S. Army on July 8, 1982, from Ft. Buchanan, Puerto Rico. He completed basic training in Ft. Leonardwood, Missouri, and Advanced Individual Training at Ft. Jackson, South Carolina. He held numerous positions at his various assignments, from Supply Clerk to Senior Logistics NCO. His tours include: Ft. Stewart, Georgia; two tours in Germany; Ft. Eustis, Virginia; Republic of South Korea; Ft. Campbell, Kentucky; and his last assignment at the Pentagon in Washington, DC. During his second tour in Germany, he met and married the former Gloria Garcia. Shortly after marrying Gloria, SFC Calderon-Olmedo was deployed to the Persian Gulf in support of Desert Storm.
His awards and decorations include: the Army Commendation Medal (sixth Award), Army Achievement Medal (second Award), the Good Conduct Medal (sixth Award), the Army Service Ribbon, the Overseas Service Ribbon (Numeral 3), Noncommissioned Officer Professional Development Ribbon (Numeral 3), the National Defense Service Ribbon, the Kuwait Liberation Medal, Defense of Southwest Asia Medal, Southwest Asia Service Medal with three bronze stars, the Air Assault Badge, the Driver's Mechanic Badge, the Army Support Unit Award and, recently, the Army Staff Badge.
SFC Calderon-Olmedo will be remembered by his family and friends as a loving and devoted husband, an outstanding Noncommissioned Officer, and a loyal friend. SFC Calderon-Olmedo is survived by his wife, Gloria; his children, Vanessa, 10, and Jose O. Jr., 3; his parents, Mr. Saturnino Calderon and Mrs. Petra Olmedo; sister, Elizabeth; and nephew, Joshua.
9/11 Pentagon Memorial Heroes
Meet the Heroes
The Pentagon Memorial was created to remember and honor those family members and friends who are no longer with us because of the events of September 11th, 2001 at the Pentagon.