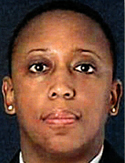 9/11 Pentagon Memorial Heroes
LTC Karen J. Wagner, USA
Born February 22, 1961, 40 years old
As successful as Karen J. Wagner was in the Army, attaining the rank of lieutenant colonel with a desk in the Pentagon, she was sketching out options for the second act in her life, something to balance her military career. In her 17 years in uniform, she rose to the position of medical personnel officer in the Office of the Army Surgeon General and Deputy Chief of Staff for Personnel – a promotion she received only last month.
An avid watcher of the Food Network, Wagner, 40, liked to relieve stress by taking long runs, her athleticism honed during her college days in Las Vegas, where she played guard on the university's women's basketball team.
She made strong connections with people, especially children, her sister, Kim, recalled.
Contemplating her post-military years, Wagner, who grew up in a military family in San Antonio and lived in Alexandria, entertained the idea of teaching overseas or maybe hosting a cooking show on television with her sister."Her shtick was baking; mine was cooking," said Kim. "Our hope was that we could retire at the same time. If we decided to teach school, we were going to get our experience in Texas and try to go abroad."
Wagner's many Army postings included serving as adjutant for the 85th Medical Evacuation Hospital at Fort Lee, Virginia; executive officer and company commander of D Company in the 187th Medical Battalion at Fort Sam Houston in San Antonio; and chief of personnel for the 57th Evacuation Hospital in Wuerzburg, Germany. She also headed the personnel services branch at Walter Reed Army Medical Center in Washington.
A 1984 graduate of the ROTC program at the University of Nevada–Las Vegas, she earned a Master's in Health Services Administration at the San Antonio campus of Webster University in St. Louis, in 1992.
"She never met a stranger," her sister said. "She was the kind of person who, when you met her, she would never forget you. She would talk to you like she'd known you forever."
9/11 Pentagon Memorial Heroes
Meet the Heroes
The Pentagon Memorial was created to remember and honor those family members and friends who are no longer with us because of the events of September 11th, 2001 at the Pentagon.