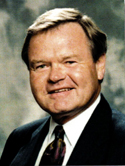 9/11 Pentagon Memorial Heroes
George W. Simmons
Born July 16, 1944, 57 years old
George W. Simmons of Great Falls, Virginia tragically lost his life on September 11, 2001, aboard Flight 77 along with his beloved wife of 19 years, Diane M. Simmons.
George retired from Xerox Corporation, where he worked for 32 years as a Manager of Sales Training; he spent his remaining years at the training center in Leesburg, Virginia. George was an avid golfer, took pride in his Martini making skills, was a member of the No Bats Baseball Club, and loved to travel sending postcards from all over the world.
He loved spending quality time with his family and friends, living life to its fullest, and lived by the motto, LIFE IS GOOD. George will be remembered as a very special man who left a lasting positive impression on everyone he met. He will be missed but never forgotten.
He and his wife, Diane, boarded Flight 77 on Tuesday, September 11, 2001, enroute to Kauai, Hawaii to bury Diane's father, Bill Helm, who had always stated his remains were to be sprinkled over his beloved Kauai, with a portion being buried next to his wife, Bea.
George Simmons is survived by his sons: George Simmons, Jr. of Huntington Beach, California, and Christopher Simmons of Coconut Creek, Florida; his daughter, Deanna Simmons of Massapequa, New York; his stepsons, Kevin Long of Reston, Virginia, and Brian Long of Sterling, Virginia; his brothers, Jeff Simmons of St. Augustine, Florida and Michael Finneran of Naperville, Illinois; and four grandchildren, Ryan, Erin and CJ Long, and Samantha Duncan.
9/11 Pentagon Memorial Heroes
Meet the Heroes
The Pentagon Memorial was created to remember and honor those family members and friends who are no longer with us because of the events of September 11th, 2001 at the Pentagon.