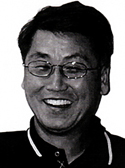 9/11 Pentagon Memorial Heroes
Dong Chul Lee
Born March 30, 1953, 48 years old
D.C. Lee came to America in 1968. A graduate of the University of Maryland and Johns Hopkins University in Computer Science, Lee worked in the U.S. Air Force for four years and for the National Security Agency for 14 years. At the time of his death, Lee was working as a program manager in government information and communication systems in the Space and Communications Group for the Boeing Company.
A loving husband to his wife, Jungmi, and proud father of his three children, Daniel, Melissa and Cynthia, D.C.'s trademark was his contagious smile and his humorous wit. "He was a really sweet person," said one friend in his River Creek, Leesburg community.
But those who knew D.C. well understood that his smile was the overflowing expression of a heart full of love and joy. Always available to lend a hand, coach a team, listen to a friend, and laugh at a joke.
D.C. now rests in the loving arms of the Savior he served, and nothing would make D.C. happier than to know that his reflection shines throughout all of those who knew, loved and now miss him.
His favorite verses from the Bible were: "Trust in the Lord with all your heart and lean not on your own understanding; in all your ways acknowledge Him and He will make your paths straight." (Proverbs 3: 5-6)
9/11 Pentagon Memorial Heroes
Meet the Heroes
The Pentagon Memorial was created to remember and honor those family members and friends who are no longer with us because of the events of September 11th, 2001 at the Pentagon.