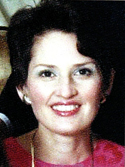 9/11 Pentagon Memorial Heroes
Zandra F. Ploger
Born November 14, 1952, 48 years old
This was to be the honeymoon Zandra Flores Ploger and her new husband Robert Riis Ploger III waited almost four months to take: Hawaii. First-class all the way. Two weeks of nothing but relaxation.
She was so excited to leave on vacation that she had packed her bags a full week before. "I'm not going to worry about work," Ploger told her daughter, Zena Tedesco. "The both of us deserve this trip." Replied Tedesco: "Say a prayer on the plane." And before the trip, Tedesco made a special plea: she prayed that her mother reach Hawaii safely. American Airlines Flight 77 from Washington to Los Angeles was the first leg of their honeymoon.
Zandra, also known as "Z" to her friends, was an irreplaceable mother, wife, daughter and friend. She was a consummate party organizer and hostess, evident by the many hours she spent enjoying the company of her family and friends. She was an instrumental and active participant in her daughters' lives, attending daughter Erin Cooper's field hockey and lacrosse games, and participating and heading graduation activities at her daughters' high school.
As a manager at IBM for more than 20 years, it wasn't in Zandra's nature to wait for opportunity to knock on her door. Instead, she was a self-starter who often heard the knock before it came to the door. She was also a motivator, encouraging her daughters to succeed in every aspect of their lives. Her goals were ambitious, whether they were work-related or planning a menu for her next dinner party, and she always exceeded them. One of the last events she coordinated was her oldest daughter Zena's wedding. As with everything else she attempted, the entire occasion was flawless, surpassing the expectations even she had for herself.
Zandra was an avid supporter of the American Heart Association given that her oldest daughter was born with a heart condition. She comforted and cared for her daughter as only a mother can from the time Zena was a child and into her early adulthood.
When her youngest daughter, Erin, wanted to make a big move, Zandra knew it was best to let Erin spread her wings and see where they would take her, even though it was difficult to see Erin go. As her daughters became older, Zandra became more of a close friend than a mother, with her daughters turning to her for advice and support.
Zandra was the epitome of what a mother stands for: love, honesty, strength and integrity. In short, she was amazing. Her spirit and her enthusiasm for life will live on with those who knew and loved her.
9/11 Pentagon Memorial Heroes
Meet the Heroes
The Pentagon Memorial was created to remember and honor those family members and friends who are no longer with us because of the events of September 11th, 2001 at the Pentagon.