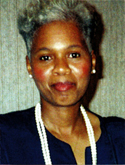 9/11 Pentagon Memorial Heroes
Sandra L. White
Born September 18, 1956, 44 years old
Sandra Letitia (Murray) White was born on September 18, 1956 in Newport News, Virginia to her parents, Aaron and Gloria Murray, Jr. She departed this life to return to her Heavenly Father on Tuesday, September 11, 2001, while proudly serving her country as a Department of the Army employee in the Pentagon, Washington, DC.
Sandra accepted Christ in her early teens while living in Hampton, Virginia. Her early life was centered around local churches that included New Grafton Baptist Church and Lincoln Park Baptist Church. Sandra sang in the youth choir and regularly attended Sunday school. She studied the Word under the love and guidance of her parents. The love of Christ continues to be the priority for the entire Murray family.
She graduated from Hampton High School, attended Virginia State University, and graduated from Hampton Roads Business College in Accounting. She worked at the Colonial Williamsburg Foundation, Williamsburg, Virginia, for a short period. After her marriage, Sandra became a career Department of the Army civil servant with 15 years in the fields of budgeting and accounting. She loved her career field. Her most recent assignment was as a budget analyst within Resource Service Washington, Pentagon.
Sandra was united in matrimony to Major Oscar N. White, Jr., on July 9, 1983, at Hampton University Memorial Chapel, Hampton, Virginia. Within this union, two children were born. Her love for Christ and her family continue to be the foundation for the family.
She leaves to celebrate her life and cherished loving memories: devoted husband of 18 years, COL (Retired) Oscar N. White, Jr.; sons, Oscar III and Jonathan; mother and father, Mr. and Mrs. Aaron and Gloria Murray of Hampton, Virginia; two brothers, Mr. Curtis Murray of Hampton, Virginia, his wife, Karen, and sons, Brandon and Randy, and Mr. Aaron Murray, Jr. of Natchez, Mississippi; two sisters, Major Gloria Murray of Hawaii and her sons, Sean and Gino, and Mrs. Connie Harris of Clinton, Maryland, her husband, Patrick, son, Chavez, and daughter, Kayla; four uncles, Mr. William Rawles of Yorktown, Virginia and his wife, Elsie, son, William, and daughter, Danielle, Mr. Cornelius Rawles of Buffalo, New York, and his grandson, Mr. Mickey Kearney of Hampton, Virginia, Mr. Willis Murray of Baltimore, Maryland and Mr. James Murray of Natchez, Mississippi; six aunts, Ms. Rosetta Murray, Ms. Mary Murray, Mrs. Alberta Easton, Mrs. Millie Washington, and Mrs. Irene Jackson, all of Natchez, Mississippi. Other relatives include: mother in-law, Mrs. Dorothy D. White of Knoxville, Tennessee; four sisters-in-law, Ms. Karen McCalister of Dayton, Ohio and daughter, Lauren, Ms. Frances Hall of Knoxville, Tennessee and sons, Wesley and Nelson, Reverend Dorothy A. White of Richmond, Virginia, and Mrs. Sandra Summey, her husband, William, daughter, Carmen, and son, William II, of Knoxville, Tennessee; uncles and aunts-in-law, Mr. and Mrs. John and Evelyn William of Knoxville, Tennessee, Mr. and Mrs. William and Mary Davis of Knoxville, Tennessee, and Ms. Fredda Davis of Knoxville, Tennessee. She also leaves a host of other devoted friends and relatives.
"Jesus said unto her, I am the resurrection and the life: he that believeth in me, though he were dead, yet shall he live: And whosoever liveth and believeth in me shall never die. Believeth thou this?" John 11:25-26
9/11 Pentagon Memorial Heroes
Meet the Heroes
The Pentagon Memorial was created to remember and honor those family members and friends who are no longer with us because of the events of September 11th, 2001 at the Pentagon.