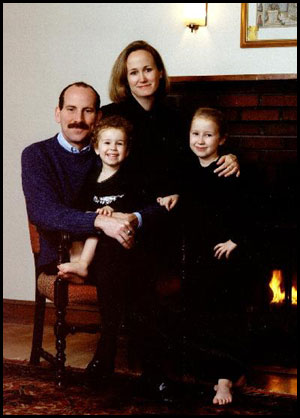 9/11 Pentagon Memorial Heroes
Dana Falkenberg
Born July 21, 1998, 03 years old
Charles Falkenberg, his wife Leslie Whittington, and their daughters, Zoe and Dana Falkenberg, were killed on September 11, 2001, when terrorists crashed their plane into the Pentagon. They lived in University Park, Maryland and were on their way to Australia, where Leslie planned to work for a few months at the Australian National University in Canberra.
Leslie, 45, was an Associate Professor of Public Policy and an Associate Dean at Georgetown University in Washington, DC. She was known for her excellent teaching and organizational skills, her wit and her research on economic issues affecting children and families. Leslie was equally admired for her work in the PTA, neighborhood babysitting co-op and other volunteer endeavors. Before going to Georgetown University, she served as an assistant professor at the University of Maryland, College Park. She earned her Ph.D. in Economics from the University of Colorado in 1984.
Charles, 45, was a gifted software engineer and scientist. An expert in developing software for scientific data management, he managed NASA-related databases and served as director of research for ECOlogic of Lanham, Maryland. He was known by colleagues and friends as a devoted father, community activist and energetic volunteer for the PTA and Adelphi Dolphin Swim Club. Charles graduated at the top of his class, with B.S. and M.S. degrees, from the University of Maryland, College Park, where he had served as a faculty research scientist.
Charles and Leslie were married in 1984 in Denver, where they had graduated from East High School. Zoe, 8, and Dana, 3, were at the center of their lives. Known for her determination, intelligence and ambition, Zoe was a top student at University Park Elementary School. She was active in Girl Scouts, ballet and swim team. She appeared in the school's production of "Brigadoon" and a local production of "The King and I." She was greatly loved by her friends, teammates, teachers and her friends' parents.
Dana was a robust, curly-haired girl, who was seen as a miracle by her parents. She was intense, funny and a charmer. She celebrated her third birthday on July 21, 2001 with her Falkenberg grandparents; her Grandfather Falkenberg shares the same birth date.
The girls were the adored focus of their grandparents, aunts and uncles. They were nurtured by their community, their nannies Sola Adeyale and Gloria Henry, and by the teachers of Greenwood Nursery School and University Park Elementary School.
Charles was the son of Janis and Bill Falkenberg of Denver. His sister is Ruth Falkenberg, also of Denver; his brother, Chris, preceded him in death. Very special family members are Anne Mansfield and Kathy McCarthy.
Leslie was the daughter of Ruth Koch and longtime stepfather George Koch of Athens, Georgia. Her father is Dr. H.G. Whittington of Houston, Texas. Her surviving siblings are Kirk Whittington of Atlanta, Georgia, and Sarah Guest of Watkinsville, Georgia. Her brother, Greg Whittington, died in 1991. Her half brothers are Michael and Alex Whittington; her stepbrothers are Eric and Jonathan Koch. Her stepsisters are Sara Kochav and Amy Hamilton. She also left loving aunts, uncles, cousins and spouses of siblings.
Charles and Leslie were hard-working professionals who lived their belief that families come first. All four family members were talented, beautiful people who loved life and other people. They were anticipating their adventure in Australia and their return to a new house in Chevy Chase, Maryland. Their future looked so bright.
9/11 Pentagon Memorial Heroes
Meet the Heroes
The Pentagon Memorial was created to remember and honor those family members and friends who are no longer with us because of the events of September 11th, 2001 at the Pentagon.