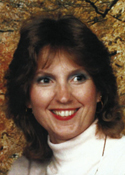 9/11 Pentagon Memorial Heroes
Donna M. Bowen
Born December 8, 1958, 42 years old
The last time Eugene Bowen, Sr. saw his wife of 12 years she was a glimmer in the early-morning darkness as he lay in bed in their Waldorf home. Donna Marie Bowen kissed him and said goodbye at 4:15 a.m. that Tuesday, as was her habit every day she went to work at the Pentagon. "I opened my eyes and said, 'Goodbye, Sweetie,' and then fell back asleep," he said.
Donna Bowen, an employee of Verizon, had worked on contract in an Army budgeting office for the last four years of a 23-year career with the communications company. "She loved working with billing problems," her husband said.
The 42-year-old had opted for an early schedule, starting at 5 a.m., so she could be home after school for her children: Alexandra, 10; Eugene Jr., 8; and Anastasia, 6. She also was a stepmother to Courtney, 19, and Erika, 21. "She devoted all her efforts in the mornings to her work and all her efforts in the evenings to her children," her husband said.
She made sure homework always came first, but she also helped fill her children's lives with activity. Her two young daughters played soccer, and her son joined Little League. All three were involved in Scouting; for four years Bowen was leader of a Waldorf Girl Scout troop, her husband said. "She was always going somewhere in the evening with them," he said.
On Sundays, she taught catechism at Our Lady Help of Christians Catholic Church, which the family attended. Every Wednesday, she left work early to volunteer in her children's classrooms at Berry Elementary School in Waldorf.
"She was very interested in children, both her own and other children," said Principal David Trudnak, who remembered occasions when she offered to help needy students. She was "upfront and concerned and a very, very nice person," he said.
Bowen had told her family that she intended to retire from Verizon in seven years and pursue a teaching certificate. Her goal: a third-grade classroom.
Born in Omaha, Donna grew up in the Shrewsbury, Massachusetts school system, and was a fan of the Boston Red Sox. She completed two years at Graham Junior College in Boston before following her parents, Kenneth and Mary Heglmeier, to Maryland.
"She was totally family-oriented," her husband said. "She would have had seven children if she could."
9/11 Pentagon Memorial Heroes
Meet the Heroes
The Pentagon Memorial was created to remember and honor those family members and friends who are no longer with us because of the events of September 11th, 2001 at the Pentagon.