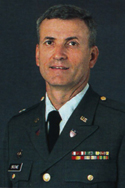 9/11 Pentagon Memorial Heroes
COL Canfield D. Boone, USA
Colonel Boone had a wide array of both Command and Staff Assignments throughout his 31 years of service. Initially enlisting with the Indiana National Guard, Colonel Boone served with the 38th Infantry Division where he attained the rank of Staff Sergeant. After receiving a direct appointment as an AG Officer, Colonel Boone served in a variety of Personnel assignments including Assistant Postal Officer, 38th AG Company, INARNG; Equal Opportunity Operations Officer, 38th Division, INARNG; Battalion Adjutant, HHC 738th Maintenance Battalion, INARNG; and Company Commander, Company B, 738th Maintenance Battalion.
Colonel Boone began his Active Guard/Reserve career in 1986 where he served as the Assistant Professor of Military Science at Eastern Illinois University. His follow-on assignments included Personnel Staff Officer and Personnel Analyst, ARNG Personnel Directorate, Arlington, Virginia; ARNG AGR Assignments Officer, Personnel Secretariat, Arlington, Virginia; Chief, Military Personnel Services Directorate, Arlington, Virginia; and Army National Guard Advisor and Mobilization Integrator, Personnel Command (PERSCOM), Arlington, Virginia. Colonel Boone was assigned as the ARNG Personnel Policy Integrator in the Office of the Deputy Chief of Staff for Personnel (ODCSPER), Army Pentagon, in August of 1998.
Colonel Boone attended a number of military schools including the Adjutant General Officer Basic Course, Adjutant General Officer Advanced Course, and the Command and General Staff College. He received a Bachelor of Science degree from Butler University, and earned a Masters degree in Personnel Management from Webster University.
Colonel Boone's awards and decorations include the Legion of Merit, the Purple Heart, the Meritorious Service Medal (one Oak Leaf Cluster), the Army Commendation Medal (three Oak Leaf Clusters) and the Army Staff Identification Badge.
He is survived by his wife, Linda; his mother, Gail; his three sons, Chris, Andy and Jason; and his sisters, Gaye Demotte and Joy Caplinger.
9/11 Pentagon Memorial Heroes
Meet the Heroes
The Pentagon Memorial was created to remember and honor those family members and friends who are no longer with us because of the events of September 11th, 2001 at the Pentagon.