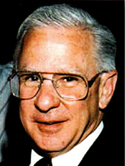 9/11 Pentagon Memorial Heroes
Ernest M. Willcher
Born October 23, 1938, 62 years old
In April 2001, after 40 years of dedicated service to the United States Army, Ernest M. Willcher retired from his civilian post in the Army General Counsel's office and became an associate of Booz, Allen, & Hamilton, consulting at the Pentagon a few days each week. Willcher and two other company employees were caught in the terrorist attack on the Pentagon while briefing LTG Timothy J. Maude, the Army's Deputy Chief of Staff for Personnel, on an improved system for survivor benefits for military employees. 
Willcher, who was born in the District of Columbia and grew up in Montgomery County, received an undergraduate degree in Business from the University of Maryland and a Law degree from American University, which he earned at night while working for the Army.
He served in the Army for three years and spent 37 years as a civilian employee in various posts. He was assigned to the U.S. Army Map Service, Walter Reed Army Medical Center, Fort Detrick, and then to the Army General Counsel's Office in the Pentagon. Ernie was married to his wife, Shirley, for 23 years and was the devoted father of two sons, Benjamin and Joel. He never missed a baseball game or a school play and their successes were his greatest source of pride.
9/11 Pentagon Memorial Heroes
Meet the Heroes
The Pentagon Memorial was created to remember and honor those family members and friends who are no longer with us because of the events of September 11th, 2001 at the Pentagon.