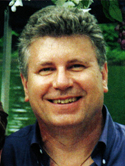 9/11 Pentagon Memorial Heroes
Robert R. Ploger III
Born December 19, 1941, 59 years old
Robert Riis Ploger III was born on December 19, 1941, in Ft. Lewis, Washington, to Major General Robert Riis Ploger, USA (ret.) and Marguerite Ploger. He died on September 11, 2001, aboard American Airline's Flight 77, departing for his honeymoon with Zandra Cooper Ploger.
As the son of a military officer, Mr. Ploger attended 11 schools, graduating from Paris American High School in 1959. He attended Michigan State University and graduated from the University of Denver in 1965. He served in the U.S. Army from 1960-1962.
Bob's long career in information technology began with what he jokingly referred to as being "a midwife at the birth of the Internet," helping develop one of the ARPANET's first nodes at the University of California Santa Barbara. Later, both as a development engineer at a start-up company and as the creator of another company, he successfully developed IBM attachments for compatible networks for the Series I/370 and Series 1/X.25. Mr. Ploger retired from IBM in 1996 with two patents. At the time of his death, he was the Director of Enterprise Engineering for the U.S. Customs and Modernization Program at Lockheed Martin.
He is survived by two children, Wendy Ploger of Brooklyn, NY and Robert Riis Ploger IV of Tucson, AZ; three brothers, Wayne Ploger of Montross, VA, Daniel Ploger of Sarasota, FL, Gregory Ploger of Bologna, Italy; two sisters, Marianne Ploger Hill of Memphis, TN, Marguerite Ploger of Spokane WA; and his first wife, Sheila Wagner Ploger of Potomac, MD. His mother Marguerite Ploger preceded him in death in 1982 and his father Maj. Gen. Robert R. Ploger, USA, died in 2002.
He was a skilled and consummate woodworker; enjoyed playing tennis with his daughter; grilling and stir-frying; and fixing just about anything. His friends and family will all miss Bob's unique combination of intellectual and physical intensity, keen sense of humor, and sharp incisive mind.
9/11 Pentagon Memorial Heroes
Meet the Heroes
The Pentagon Memorial was created to remember and honor those family members and friends who are no longer with us because of the events of September 11th, 2001 at the Pentagon.