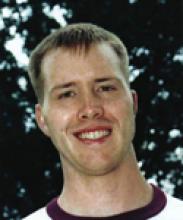 9/11 Pentagon Memorial Heroes
SPC Craig S. Amundson
Born August 21, 1973, 28 years old
Craig S. Amundson was born August 21, 1973 in Cedar Rapids, Iowa. He was raised in Anamosa, Iowa where he graduated from Anamosa High School in 1992. Craig played high school football and was active in the film/media department. In 1996, he received his Bachelor of Arts in Film Studies from the University of Iowa in Iowa City. Craig was the owner of a graphic design company called SockoDesign.
While in the Army, he received the Military Achievement Award, given by General Ohle in 1999, and Expert Rifleman. He was also posthumously awarded the Purple Heart and Meritorious Service Award. Craig worked as an enlisted specialist under Lieutenant General Timothy J. Maude doing multimedia illustration. He is survived by his grandparents, Arthur and Sophia Amundson, and Marion Brusven; his parents, Orland and Karen Amundson; his brothers, Ryan and Barry Amundson; his wife, Amber Flury Amundson; and his children, Charlotte and Elliot Amundson.
9/11 Pentagon Memorial Heroes
Meet the Heroes
The Pentagon Memorial was created to remember and honor those family members and friends who are no longer with us because of the events of September 11th, 2001 at the Pentagon.