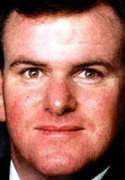 9/11 Pentagon Memorial Heroes
CDR Patrick Dunn, USN
Born January 31, 1962, 39 years old
From her home, Stephanie Ross Dunn could hear when the U.S.S. LaSalle was heading out to sea: three deep blasts of its horn as it left its berth, one more as it turned for the Gulf of Gaeta. She'd grab her big blue-andgold Naval Academy flag and head for the roof of the house in the small Italian port she shared with her husband, Pat, the LaSalle's executive officer. And when the stately command ship passed by, with her husband on the bridge, she'd grasp the flag by its wooden staff and wave a solitary farewell – to him, and to all hands on board.
Despite his busy life in the Navy, CDR Patrick Dunn, 39, and his wife were in constant communication. The morning of September 11, he kissed Stephanie, 31, who was two months pregnant with their first child, before leaving for work at the Pentagon. Then, for the first time, he kissed her stomach, too.
He telephoned later to tell of the terrorist attacks in New York City. After the Pentagon was hit, when he didn't call back, something told her quickly, starkly, and clearly that he was gone.
On Sunday, as she sat in the living room of their Springfield town house wearing her husband's sapphire Naval Academy ring on a necklace, she spoke of life married to a sailor. "Pat's favorite thing was to be at sea," Stephanie said, "He loved to be at sea. He… absolutely loved it. His home was at sea. If the ship was rocking, he was happy…. It was in his blood."
Pat, the son of a Newark policeman, came from a Navy family. His father served in World War II and the Korean War; Pat and one of his brothers were Naval Academy graduates. He had just come off several long deployments when they met at a sports bar in Alexandria, she remembered, four years ago last week. But he also was fascinated with the lore and excitement of the Pentagon, where he worked as a planner and strategist, and where he was when the hijacked Boeing 757 airliner smashed into the Navy Command Center on September 11.
"It was like almost part of me left," Stephanie said of the moment when she learned of the Pentagon attack. "I covered my mouth and I screamed, 'No!' It's like my body knew, and I don't know how to describe it… But part of me left with him. I knew right away – my life had just changed." CDR Dunn was buried at Arlington National Cemetery.
9/11 Pentagon Memorial Heroes
Meet the Heroes
The Pentagon Memorial was created to remember and honor those family members and friends who are no longer with us because of the events of September 11th, 2001 at the Pentagon.