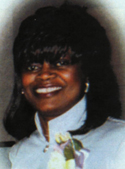 9/11 Pentagon Memorial Heroes
Carrie R. Blagburn
Born July 1, 1953, 48 years old
Leo Blagburn spends his days assembling furniture he and his wife, Carrie, purchased days before September 11th, all the while keeping close watch on television broadcasts for news that his wife had been found alive.
Carrie Blagburn, 48, a civilian budget analyst for the Army, had not been heard from since Flight 77 plowed into the side of the Pentagon housing her office Tuesday morning, loved ones said. The Army lists her as unaccounted for shortly after the attack.
"I didn't like to leave the house because I needed to be near the telephone," Leo Blagburn said at his home on a cul-de-sac in Temple Hills. Army counselors "came by every day to give me an update, but the update is always the same: she's missing. That's all they could tell me."
For two days after the crash, Blagburn called his wife's cell phone several times and got only her voice mail. "The thing that hurt so bad is… you get her voice," he said. "But I stopped calling. I couldn't stand to hear her voice like that."
Blagburn's youngest daughter, Deanna, 16, helped him take calls from supportive friends and relatives. His son, DeAndre, 22, a soldier, is trying to get home from Saudi Arabia, where he flew for a temporary assignment four days before the crash of Flight 77.
While he waited, Blagburn flashed on memories of his 23 years with his wife – trips, outings to dance clubs, church visits, the births and weddings of their children, the tender loving care she has given their grandchildren. He pointed to the six-foot-tall plants that his wife nurtured, the drapes she sewed, and the wallpaper they applied together.
"I prayed that she'd get back here to enjoy it with me again," he said. "I couldn't think of anything else but that at the time."
9/11 Pentagon Memorial Heroes
Meet the Heroes
The Pentagon Memorial was created to remember and honor those family members and friends who are no longer with us because of the events of September 11th, 2001 at the Pentagon.