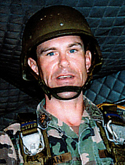 9/11 Pentagon Memorial Heroes
MAJ Wallace Cole Hogan, Jr., USA
Born October 9, 1960, 40 years old
Cole's father, Wallace Hogan Senior, described Cole as a "soldier's soldier who loved the Army. He was driven to excel in everything he did in the Army." Cole served for 21 years in the Army until his death at the Pentagon. He received his commission in 1981 from Officer Candidate School and joined the Georgia Army National Guard as a Rifle and Mortar Platoon Leader. Major Hogan's subsequent assignments provided him a broad base of troop and staff assignments. He attended the Infantry Officer Basic course and served with the 19th Special Forces Group (Airborne), Colorado Army National Guard, as the Detachment Executive Officer and later as the Commander.
Major Hogan attended the Special Forces Officer Qualification Course at Fort Bragg, North Carolina. He then served with the 20th Special Forces Group (Airborne) and Alabama Army National Guard as a Detachment Commander. He attended the Infantry Officer Advanced Course at Fort Benning, Georgia and the Special Forces Thai Language Course at Fort Bragg, North Carolina. He accepted an active duty appointment in the grade of Captain on April 4th, 1993. He served with the 1st Special Forces Group (Airborne) Fort Lewis, Washington as a Battalion Operations Officer and Detachment Commander; and as the Commander, Special Forces Instructor Detachment, U.S. Army Jungle Operations Training Battalion, Fort Sherman, Panama. He joined the Office of the Deputy Chief of Staff for Operations and Plans.
He attended First Presbyterian Day School in Macon, Georgia and received his B.A. in Business Administration from Valdosta State University in Valdosta, Georgia.
Major Hogan's awards and decorations include: the Meritorious Service Medal with two Oak Leaf Clusters, Army Commendation Medal with Oak Leaf Cluster, Army Achievement Medal with five Oak Leaf Clusters, Army Reserve Components Achievement Medal with two Oak Leaf Clusters, Armed Forces Reserve Medal, Army Service Ribbon, Special Forces Tab, Ranger Tab, Scuba Diver Badge, Senior Parachutist Badge and Pathfinder Badge. Major General Kensinger (Cole's supervisor) said, "Cole was an extremely dedicated officer with great attention to detail. He was a great athlete who was looking forward to commanding a Special Forces Company later this year. Cole loved the Army…" Cole was fond of using this simple quote by Colin Powell, "All my life I have always wanted to be a soldier."
Cole enjoyed cycling and often made the trip from his home to the Pentagon (many miles) on his bike. He was extremely competitive and conducted a vigorous workout every day. His other hobbies were mostly focused on the outdoors. His interests included woodworking, working on the house, drawing and creating new things. He enjoyed rising early to maximize every minute of every day. He had an outgoing and vocal character that would stand out in a crowd. He enjoyed military history with a special interest in the Civil War. Cole and his spouse, Pat, would often visit national battlefields. Pat Hogan is an Air Force doctor. She is competitive and active. In her words, "to be around Cole you have to be energetic."
They met when Cole fell ill at the Jungle Warfare School in Panama. Pat was in charge of his medical treatment and a storybook romance ensued. Cole Hogan's family, spouse, co-workers and friends all are suffering from a difficult feeling beyond the grief of his death. Cole was a center of energy; he motivated those around him to try harder. His loss creates a vacuum as they all try to balance their day-to-day activities. His quick wit matched with a lifetime of accomplishment will be missed. Cole's contributions as a leader and as an instructor will leave a lasting positive contribution to his soldiers, his peers and to the U.S. Army. He gave his life in the defense of freedom. It brings home the message to us all that, "freedom isn't free."
Major Hogan is survived by his wife, P. Pat Phermsangngam (Hogan), Major USAF, Alexandria, Virginia; his parents, Wallace and Jane Hogan of Macon, Georgia; and sisters, Meg Campbell and Kris Leggett.
9/11 Pentagon Memorial Heroes
Meet the Heroes
The Pentagon Memorial was created to remember and honor those family members and friends who are no longer with us because of the events of September 11th, 2001 at the Pentagon.