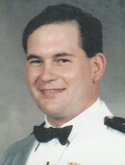 9/11 Pentagon Memorial Heroes
LCDR Patrick J. Murphy, USNR
Born June 25, 1963, 38 years old
LCDR Patrick J. Murphy, USNR, of suburban Chicago, Illinois, has been identified as one of the victims of the September 11th terrorist attack on the Pentagon. A member of the Naval Reserve, LCDR Murphy was performing a three-week assignment with the Navy Command Center, standing duty when the attack occurred. 
A 1981 graduate of Marian Catholic High School, he signed up for ROTC and completed a B.S. in Chemical Engineering at the University of Mississippi in 1986. He was commissioned an Ensign in the Navy on May 21, 1986, in the Nuclear Propulsion program. That same year, he married his wife of 15 years, Masako Nagasawa. 
Following nuclear power plant training, Patrick served on U.S.S. Sand Lance (SSN 660) as leader of Electrical, Reactor Control and Damage Control divisions. 
In 1991, Patrick left active duty to pursue a career in Chemical Engineering. He has worked for a few firms, including Brach's Confections, Inc. and the Alberto Culver Company in Chicago. He recently received an M.B.A from the University of Chicago and, shortly after, moved with his family to New Jersey. He maintained his connection with the Navy, serving in a number of positions with the Naval Reserve and performing duty with the Chief of Naval Operations branch of the Pentagon. He completed a course of study at the Naval War College in International Relations and Strategic Studies in 1999. His decorations include the Navy Achievement Medal (two), the Navy and Marine Corps Commendation Medal, the Navy Commendation Medal, the Meritorious Service Medal, and the Purple Heart (posthumously awarded). 
Patrick Murphy was a man of many interests, well traveled, and a student of history. He had visited many countries in Europe and Asia, and enjoyed meeting people and learning different cultures. Most importantly, he loved spending time with his family. LCDR Murphy was a loving, devoted and loyal husband, father, son, brother and uncle. An intensely profound man, Patrick believed strongly in family, God and country. Patrick gave his life for these beliefs. He will be sorely missed by his family, friends and fellow countrymen. We all hope and pray that he may rest in peace. 
Patrick is survived by his wife of 15 years, Masako Murphy; his two children, Mitchell, 6, and Casey, 3; his mother, Joan Miller of Glenwood, Illinois; his mother-in-law, Toyoko Iida of Tokyo, Japan; his step-mother, Joyce Murphy of Pinehurst, North Carolina; two brothers, John J. Murphy of Flossmoor, Illinois, and David J. Ames of Evanston, Illinois; stepbrother and sister-in-law, Rodger Miller and Delores Williams of Crete, Illinois; three sisters and two brothers-in-law, Kathleen M. Schweikart and Jay Schweikart of Naperville, Illinois, and Susan G. Johns and Christopher Johns of Louisville, Kentucky, and Gwynne L. Murphy of Pinehurst, North Carolina; sister-in-law and brother-in-law, Takako Fukuda and Yuji Fukuda of Tokyo, Japan; four nephews and five nieces, Sachiko Fukuda, Makiko Fukuda, Naoko Fukuda, Celia Johns, Timothy Schweikart, Reece Johns, Jamie Schweikart, Orion Johns and Joseph Schweikart; his godfather, Dr. William Slavin and his godmother, Mrs. Mark Salenk; two uncles; two aunts; and numerous cousins, friends and military colleagues.
9/11 Pentagon Memorial Heroes
Meet the Heroes
The Pentagon Memorial was created to remember and honor those family members and friends who are no longer with us because of the events of September 11th, 2001 at the Pentagon.