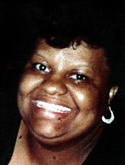 9/11 Pentagon Memorial Heroes
Lisa L. Young
Born December 21, 1963, 37 years old
Lisa Young, 37, was a devoted mother, loving sister and best friend. She had a very special way of getting along with everyone. Lisa was born on December 21, 1963, in Washington, DC. She graduated from H.D. Woodson Senior High School in 1981 on the Dean's list. She studied to become a dental hygienist at Georgetown University.
In 1986, Lisa took a civil service exam and became a very proud federal employee of the U.S. Department of Defense, DCSPER/Army. She worked as a Personnel Assistant at the Pentagon for 15 years. Lisa enjoyed the precision, the sense of purpose and the excitement of working for the Army. She brought so much joy to all the people she worked with. She was a hard worker and will never be forgotten by her superiors and co-workers.
But her main focus and priority was her daughter, Chaquita Young, in her words, "her miracle baby." Her daughter was her life. Chaquita turned 18 years old on October 11th, which was the one-month anniversary of the tragedy. Mother and daughter spent countless hours together either at home or malls, but mostly on the phone. They spoke all hours of the day just to have a good time. Chaquita was baptized at St. Francis Xavier Catholic Church. Mother and daughter would occasionally attend Mass at St. Francis Xavier Catholic Church.
Lisa Young was one of those lost in the crossfire of this difficult tragedy. Many people loved her; she will be truly missed.
9/11 Pentagon Memorial Heroes
Meet the Heroes
The Pentagon Memorial was created to remember and honor those family members and friends who are no longer with us because of the events of September 11th, 2001 at the Pentagon.