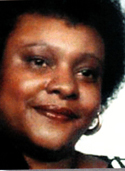 9/11 Pentagon Memorial Heroes
Edna L. Stephens
Born April 19, 1948, 53 years old
Edna Lee Stephens entered into eternal rest on Tuesday, September 11, 2001. She was born on April 19, 1948 to Pastor Eddie Stephens and the late Willie Mae Lott Stephens in Gainesville, Georgia. She was educated in the Gainesville City School System and graduated from the E.E. Butler High School in 1966.
Soon after graduation, Edna moved to Washington, DC, where she began her professional career working for the Federal Bureau of Investigation. However, for the past 34 years she worked for the Army and Department of Defense with various job titles in various locations at the Pentagon in Arlington, Virginia. Her last assignment was in the Resource Management Office where she worked as a Budget Analyst. Even though she was at the top of her chosen field, Edna continued to pursue her education taking courses at the University of the District of Columbia in Washington, DC and at Fort Benjamin Harrison in Indianapolis, Indiana.
During her early years, Edna joined the Antioch Baptist Church in Gainesville, Georgia, under the pastorate of the Rev. J.W. Evans and, after graduating from high school, she moved to Wayne Place in Washington, DC. In 1974 she moved to the River Terrace community of Washington, DC, where she united with the Varick Memorial A.M.E. Zion Church under the pastorate of the Rev. John H. Arrington. She served here as a dedicated and faithful member until her untimely death.
Edna loved her family, her church, and her friends, but she gave her heart and soul to God. She leaves to cherish many memories; her father, Rev. Eddie Stephens; one son, Torrass Martez Allen of Gainesville, Georgia; six sisters, Robert (Betty) Hill, Brenda Pyant, John (Gloria) Darrisaw, Mary Stephens and Eunice Holcomb, all of Gainesville, Georgia, and Barbara Cobb of Hilton Head Island, South Carolina; two brothers, Eddie (Charlie) Stephens of Flowery Branch, Georgia and Marvin Stephens of the home; paternal uncles, Anderson (Katie Mae) Stephens of Fall River, Massachusetts, and Johnson Stephens and Horace Stephens of Gainesville; paternal aunts, Mattie Sue Bailey, Tillar Hill and Lucy Mae Thomas, all of Gainesville; maternal uncles, Nathaniel (Marylene) Lott of Athens, Georgia, and Robert (Joyce) Lott and Harold (Patricia) Lott of Gainesville; maternal aunts, Lois Young of Atlanta, Georgia, and Betty Sue Allen, Louise Evans, Shirley Dodd and Francine Lott, all of Gainesville. She also leaves to cherish her memory a host of cousins, other relatives and friends, both in the United States and abroad.
9/11 Pentagon Memorial Heroes
Meet the Heroes
The Pentagon Memorial was created to remember and honor those family members and friends who are no longer with us because of the events of September 11th, 2001 at the Pentagon.