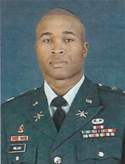 9/11 Pentagon Memorial Heroes
MAJ Ronald D. Milam, USA
Born August 11, 1968, 33 years old
Major Ronald Dutrell Milam, son of Tommie and Effie Milam, was born on August 11, 1968 in Muskogee, Oklahoma. He departed this life on September 11, 2001 at the Pentagon, Arlington, Virginia. Major Milam graduated from Muskogee High School and earned his Bachelors degree from Eastern New Mexico University in 1991. 
He was commissioned as a Second Lieutenant in the United States Army. Since commissioning, Major Milam has served as Platoon Leader (Germany), Executive Officer (Germany), Assistant Operations Officer (Korea), Battery Commander (Korea), Patriot Training Officer for Saudi Arabian Forces and Military Assistant for the Secretary of Army, Manpower and Reserve Affairs, the Pentagon. 
Major Milam has been awarded the Legion of Merit, the Purple Heart, Meritorious Service Medal, the Army Commendation Medal, the Army Achievement Medal, National Defense Service Medal, Southwest Asia Bronze Star, Cold War Certificate and the Parachutist Badge. He served his country for ten years. 
He was united in holy matrimony to Jacqueline Link on January 15, 2000 and, from that union, they were blessed with a daughter, Myejoi Olivia, and son, Ronald Dutrell Milam, Jr. 
Major Milam departed for his home-going, leaving his devoted wife, Jacqueline Fay Milam; one beautiful daughter, Myejoi Olivia Milam; and a son, Ronald Dutrell Milam Jr.; parents, Tommie and Effie Milam; father-in-law, Adam Link, Sr.; two siblings, Steven and Stephanie Milam; five sisters-inlaw, Barbara Milam, Gwendolyn Link, Etta Link, Juanita Link and Barbara Link; four maternal aunts; two maternal uncles; six paternal aunts; two paternal uncles; one niece, Ashley Cotton; one nephew, Cameron Milam; three very dear friends, Robert and Lynette House and Effie Owens; and a host of other aunts, uncles, cousins and friends.
9/11 Pentagon Memorial Heroes
Meet the Heroes
The Pentagon Memorial was created to remember and honor those family members and friends who are no longer with us because of the events of September 11th, 2001 at the Pentagon.