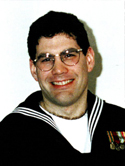 9/11 Pentagon Memorial Heroes
ET1 Ronald J. Hemenway, USN
Born July 25, 1964, 37 years old
As a young man, Ronald Hemenway displayed a unique sense of curiosity. He was born in Alaska; however, during his early 20s he moved from state to state and worked a variety of jobs searching for his dream.
In 1994 that dream began to unfold when he joined the United States Navy to become an electronics technician, a field for which he had developed a passion due to his father Robert's work. Then, three years later, while stationed on the U.S.S. LaSalle, based in Gaeta, Italy, he met and married the love of his life, Marinella.
Marinella inspired Ronald to succeed in ways he had never imagined. Friends and family expressed their amazement at how motivated and encouraged Ronald became after marrying Marinella. Ronald himself once said to his mother, Shirley, that he never dreamed he could be this happy.
With this new sense of motivation burning inside, Ronald quickly advanced to 1st Class Petty Officer. He developed a thirst for knowledge that just could not be quenched. He is remembered as a man who read everything he could find and as a husband who was so eager to share his knowledge with his wife.
Ronald's dream became complete with the birth of his two children, Stefan, 3, and Desiree, 1. Ronald and Marinella were making plans to buy their first house on several acres of land to raise their children and to live always together for the rest of their lives.
This husband and father is also survived by his two parents, Robert and Shirley; five siblings, Robert, Jr., Sheri, Debbie, Kathy and Paul; as well as numerous nieces and nephews.
Ronald is remembered as a man eager to constantly improve himself for his family, as a co-worker and neighbor willing to help – no matter what the problem – and as a man who would rather give to others than receive.
9/11 Pentagon Memorial Heroes
Meet the Heroes
The Pentagon Memorial was created to remember and honor those family members and friends who are no longer with us because of the events of September 11th, 2001 at the Pentagon.