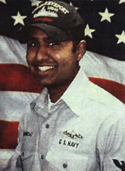 9/11 Pentagon Memorial Heroes
IT2 Kris Romeo Bishundat, USN
Born September 14, 1977, 23 years old
Kris Romeo Bishundat was born in Georgetown, Guyana on September 14, 1977 to Bhola and Basmattie Bishundat, and was the oldest of three children. Waldorf, Maryland became home when he was only two years old and has been home ever since. Known to family and friends as Romeo, he graduated from Thomas Stone High School in 1995, and enlisted in the Navy on September 13, 1995. After graduating from boot camp in November 1995 and Service Command School in April 1996, then IT3 Bishundat reported for one year of duty aboard the U.S.S. Yorktown (CG 48). In November 1997, he transferred to the U.S.S. Shreveport (LPD 12) where he, according to LT Mike Coleman, then his Division Officer, "quickly established himself as one of the finest sailors to ever walk the decks of the Supergator."
While aboard the U.S.S. Shreveport, he became the icon of education and training as he spent countless hours in providing computer accessibility distance learning and operating as the ship's Webmaster. IT2 Bishundat reported for duty at the Pentagon in May 2001 to the Chief of Naval Operations Telecommunications Center (OPNAV TCC). OPNAV TCC, the Pentagon directorate of Naval Computer and Telecommunications Station, Washington, DC, was where he quickly qualified in three watch stations and was well on his way to success. On September 11, 2001, IT2 Bishundat had reported for work as ordered, excited about the fact that OPNAV TCC's Voice Communications Office had just been relocated in the newly renovated wing of the Pentagon. His zeal for education, zest for life, and love of his family and friends will forever grace the many lives that he has touched.
IT2 Bishundat's awards include: Purple Heart (posthumous), Navy Commendation Medal, Navy and Marine Corps Achievement Medal, Navy Unit Commendation, National Defense Service Medal, Sea Service Deployment Ribbon, Armed Forces Expeditionary Medal, and Good Conduct Medal. As a testimony of his selflessness and dedication to honor, courage and commitment, the U.S.S. Shreveport has established the Information Technician Second Class (Surface Warfare) Kris Bishundat Learning Media Resource Center, housing nine computer terminals, educational materials, and a small literary collection for over 700 Sailors and Marines onboard the ship.
Kris Romeo Bishundat is survived by father, Bhola; mother, Basmattie; and sisters, Danita and Devita.
9/11 Pentagon Memorial Heroes
Meet the Heroes
The Pentagon Memorial was created to remember and honor those family members and friends who are no longer with us because of the events of September 11th, 2001 at the Pentagon.