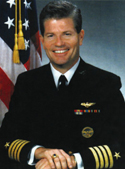 9/11 Pentagon Memorial Heroes
CAPT Charles F. Burlingame III, USNR, Retired
Born September 12, 1949, 51 years old
Charles "Chic" Burlingame was a resident of Oak Hill, Virginia. He was married to American Airlines flight attendant, Sherri Burlingame, father of Wendy, grandfather of Jack, and stepfather of John and Chad Harris. Captain Burlingame was a graduate of the United States Naval Academy ('71) and a former Navy jet fighter pilot. Prior to his 22-year career with American Airlines, he flew F-4 Phantoms in Squadron VF-103 aboard the U.S.S. Saratoga. He continued military service as a Naval Reserve Officer, retiring at the rank of captain in 1996. Captain Burlingame's military career highlights include: 
Honor graduate of the Navy "Top Gun" school NAS Miramar.
Recalled to active service and served at the Pentagon during the Gulf War.
Awarded the Defense Superior Service Medal.
Captain Burlingame was hired by American Airlines in 1979 and was furloughed in 1980. He then worked as a manager for Lockheed Aerospace until American Airlines recalled him to service in 1984. He qualified as captain in Boeing 727s and Boeing 757/767s.
Captain Burlingame was born on September 12, 1949 in St. Paul, Minnesota to Mr. and Mrs. Charles Frank Burlingame, Jr. His father was a World War II Navy veteran who later served as a noncommissioned officer in the United States Air Force. Captain Burlingame was known by his childhood nickname, Chic. He grew up on or near military bases throughout his youth, aspiring from an early age to attend a United States service academy and become a pilot. He was an Eagle Scout and played trumpet in his high school marching band. Captain Burlingame was awarded a presidential appointment by Lyndon Johnson to the United States Naval Academy at Annapolis upon graduating from Anaheim High School ('67) in Anaheim, California. He received a Bachelor of Science degree from USNA in aeronautical engineering.
9/11 Pentagon Memorial Heroes
Meet the Heroes
The Pentagon Memorial was created to remember and honor those family members and friends who are no longer with us because of the events of September 11th, 2001 at the Pentagon.