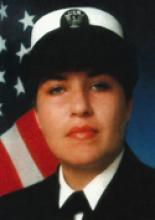 9/11 Pentagon Memorial Heroes
YN3 Melissa Rose Barnes, USN
Born November 28, 1973, 27 years old
Melissa Rose Barnes, 27, was preparing to leave the Pentagon to move back to California. She had worked at the Navy's headquarters for two years after holding several assignments since 1992, when she enlisted from Redlands, California. Her mother, who is divorced from her father, still lives in California. She also has a brother.
Promoted to yeoman third class in June 2000, Barnes held an administrative job in telecommunications at the Pentagon and reported to the Chief of Naval Operations, according to a Navy spokesman. She stayed in touch with her former husband, Petty Officer 1st Class Chris Barnes of Chesapeake, Virginia. They separated in 1998 after four years of marriage. He kept one of their dogs, Sasha, and she kept the other, Honey.
Barnes began her naval service as a corpsman – a medical aide – at a naval hospital in Portsmouth, Virginia, and later received communications training in Mississippi. In 1997, she left the Navy but returned nine months later. "She missed the military," Chris Barnes said. "She wanted to try something else, but she came back into it."
9/11 Pentagon Memorial Heroes
Meet the Heroes
The Pentagon Memorial was created to remember and honor those family members and friends who are no longer with us because of the events of September 11th, 2001 at the Pentagon.