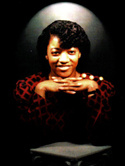 9/11 Pentagon Memorial Heroes
Sandra N. Foster
Born June 10, 1960, 41 years old
Sandra Nadine Foster was born on June 10, 1960 in Washington, DC, to Barbara E. Hill and the late Lawrence W. Hill. Sandra grew up in Washington, DC and graduated from Dunbar Senior High School in June 1978.
Sandra started her career with the Federal Government in 1977, working as summer aide for the Federal Power Commission. She returned the following summer to the Department of Energy. On August 27, 1978, she accepted a position with the Defense Intelligence Agency. Throughout her career, Sandra was devoted to excellence, demonstrated through the numerous awards she received for outstanding performance. She was a senior management officer assigned to the Office of the Deputy Comptroller for Force Structure and Management, Office of the Comptroller.
Her contributions to the agency will be missed. Sandra and her husband, Kenneth, married on March 9, 1991. To Sandra, her family was the most important thing in life. In the words of her husband: "March 9, 1991, was the most special day of my life. I will never forget that day and that special moment when those church doors swung open, and she was escorted by her brother to me. When she walked through that door, my life changed. She never wore makeup. Her beauty was natural. Her radiance could light up a room or a heart. Our girls on the basketball team knew her as Ms. Coach.
She was a pillar of strength and she shared that strength. She was royalty, so I called her 'Duchess.' She was better than a queen and more valuable than a princess. A fun lady, full of love for all, but special love for me."
Ms. Foster is survived by her husband, Kenneth; stepsons, Kyle and Kellen; her mother, Barbara Hill; brother, Lawrence Hill; and a host of family and friends.
9/11 Pentagon Memorial Heroes
Meet the Heroes
The Pentagon Memorial was created to remember and honor those family members and friends who are no longer with us because of the events of September 11th, 2001 at the Pentagon.