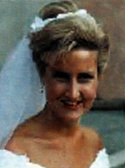 9/11 Pentagon Memorial Heroes
Karen Ann Kincaid
Born November 3, 1960, 40 years old
Karen A. Kincaid, a passenger on American Airlines Flight 77, was a partner in the communications practice of the law firm Wiley Rein & Fielding (WRF). Karen also served as an adjunct professor at CU's Columbus School of Law. Richard Wiley, head of the law firm, said of Karen: "She was very self-effacing. She was one of the nicest, most genuine people you would hope to meet." As quoted in the Washington Post by R. Michael Senkowski, a partner and head of the firm's telecommunications practice, "Karen was a great lawyer, one of the nicest, kindest human beings you can run across – we are all very much in grief."
At a memorial service held for Karen on September 15th at St. Columba's Episcopal Church in Washington, DC, Pastor Jim Donald said of Karen, "Karen loved cats. She was a good attorney, selfeffacing, and brilliant in her work." The final blessing, one which Karen personally told Jim Donald she liked very much and meant a great deal to her, read as such: "Life is short, and we do not have too much time to gladden the hearts of those who travel the way with us. So be swift to love, and make haste to be kind, and the peace of God will be always with you."
This is the choice Karen made in life and one she would commend to us all. 
Karen joined WRF in 1993 and was a member of the firm's communications practice. She served as a Senior Attorney-Advisor for the Private Radio Bureau at the Federal Communications Commission from 1989 to 1993. Karen was a former law clerk to the Honorable J. Smith Hensley, U.S. Court of Appeals for the Eighth Circuit (1987 to 1989), and the Honorable Leo Oxenberger, Chief Judge, Iowa Court of Appeals (1986 to 1987). She received her B.A. from Central College in Pella, Iowa and her J.D. from Drake University in Des Moines, Iowa.
Karen Kincaid, 40, was born in Waverly, Iowa on November 3, 1960. Karen is survived by her husband, Peter Batacan, of Washington, DC; two brothers, lawyer Kasey Kincaid of Des Moines, Iowa and Rev. Kristian Kincaid of Dubuque, Iowa; two sisters, Kay D'Amico of Cedar Rapids, Iowa and Karyl Kincaid-Noel of Waverly, Iowa; and several nieces and nephews.
9/11 Pentagon Memorial Heroes
Meet the Heroes
The Pentagon Memorial was created to remember and honor those family members and friends who are no longer with us because of the events of September 11th, 2001 at the Pentagon.