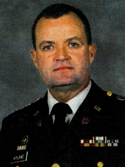 9/11 Pentagon Memorial Heroes
LTC Stephen N. Hyland, Jr., USA
Born November 10, 1955, 45 years old
Twenty years ago, Stephen Neil Hyland, Jr., told a friend what he'd like his epitaph to read:
"Born with the gift of laughter and a sense that the world was mad."
It was just too fitting, said those who love him most.
"You look back, and all you think about is him laughing," his father, Stephen, said. "When he was in a room, everybody gathered around him." He made everyone laugh, but never told a joke.
Hyland, 45, who went by his middle name, was a lieutenant colonel in the Army and worked at the Pentagon on personnel issues. October would have marked his 21st anniversary in the military, but he has been officially declared missing since September 11.
He lived in a Burke townhouse that friends say was a hub of social activity. When he moved in a year ago, the first piece of furniture that arrived was a pool table, a neighbor said. "It wasn't for himself. It was an attraction for friends," said Stephen Tobin, a military buddy from way back.
Weekends, Tobin said, were party times for Hyland, when friends would gather for barbecues and laughs. During the week, however, Hyland took his job seriously. "He was so elated to work at the Pentagon," his father said.
Hyland moved from place to place as a child, but the family eventually landed in Southern California, where he went to Damien High School. His father, two sisters, and a brother still live in that area, and another sister lives in New Jersey. He graduated with a degree in English literature from the University of Notre Dame, of which he was proud.
"He always had a great love of life," friend Ruth Tobin said. "He also had a great love of history. The fact that he is part of history is going to give us comfort; not now, but I think in years to come."
Recalling his laughter and dedication to country, his sister, Cheryl Hyland, put it simply: "I'm proud that Lieutenant Colonel Stephen Neil Hyland is my brother."
9/11 Pentagon Memorial Heroes
Meet the Heroes
The Pentagon Memorial was created to remember and honor those family members and friends who are no longer with us because of the events of September 11th, 2001 at the Pentagon.