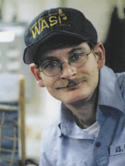 9/11 Pentagon Memorial Heroes
DM2 Michael A. Noeth, USN
Born July 7, 1971, 30 years old
From very early childhood, there was no question about Noeth's talent. He was "a painter." Drawing and painting before he could talk, his first formal art training only began when, as a junior in high school, he enrolled in special classes at the world renowned Art Students League in New York City. Always intrigued as well by ships and the sea, it was an easy decision to enlist in the Navy as soon as he earned his Fine Arts degree from the Fashion Institute of Technology. For him it was the best of all worlds; to really travel the world, live at sea, and have enough opportunities to paint his impressions of every experience. 
Michael's first tour was as a member of the commissioning crew of the U.S.S. Russell (DDG59). During those four years he was temporarily assigned to the All Hands production staff. In addition to creating the April 1998 issue, "Year of the Ocean" cover, many of his paintings were published in other issues. Shortly after his return to the Russell, he achieved his DM3 rating and was promptly assigned another temporary post with the Crisis Action Team at the Headquarters, European Command Staff. For the excellence of his service there, he was awarded the prestigious Joint Service Achievement Medal. 
In 1999, he was transferred to the amphibious assault ship U.S.S. Wasp (LHD1). While upgrading to DM2, several of his "Navy life" paintings were included in the official Wasp calendar for that year. During the final month of his Wasp tour, he successfully completed all requirements to qualify as a Surface Warfare Specialist, before reporting for his new assignment at the Pentagon. 
Michael was transferred to the Office of the Chief of Naval Operations in September 2000. He was at his post at the moment of the September 11, 2001 attack. He was just 30 years old. 
In addition to his regular duties at that time, Noeth was working to complete the outstanding commission awarded to him to create portraits of the 27 Admirals who had served as Chief of Naval Operations. The three he actually completed, the almost-ready fourth and the study for the fifth, fortunately, are safe at the Naval Art Center and will eventually be hung in the Pentagon. Other works Noeth had loaned to the Command Center were destroyed at the time of the attack. 
Above all else, Michael Noeth was tremendously proud of serving in our United States Navy. He was a decent, dedicated, honorable, distinguished man, respected by all who served with him. In his mere seven years of service, he received 11 citations, including the National Defense Service Medal, Navy "E" Ribbon (three), Armed Forces Expeditionary Medal (two), Meritorious Unit Commendation, Good Conduct Medal, and the Sea Service Deployment Ribbon. 
During his Navy service, Michael Noeth also mounted two highly successful, critically acclaimed personal works exhibits at the prestigious Montserrat Gallery in New York City. 
There was no question, however, his loyalty and dedication was to every shipmate with whom he served. It was his aim to "paint sailors as they really are – aboard ship, at work and at ease – to convey an honest view of the great effort, training, expertise and a very serious sense of responsibility a whole lot of very young guys devote to assuring the protection and freedom of our country. All people need to recognize and acknowledge the great job we do . . . that it's not at all 'just seeing the world' or a great adventure."
9/11 Pentagon Memorial Heroes
Meet the Heroes
The Pentagon Memorial was created to remember and honor those family members and friends who are no longer with us because of the events of September 11th, 2001 at the Pentagon.