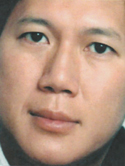 9/11 Pentagon Memorial Heroes
Khang Ngoc Nguyen
Born December 19, 1959, 41 years old
Khang N. Nguyen grew up familiar with war. In South Vietnam, he and his family heard the frequent boom of shells and gunfire. Once a mortar shell fell on a house across the street from his home, killing their friends inside. In 1975, when communists took over the country, he and his family fled to an airport in vans. His father and two of his siblings made it onto a flight heading toward the United States, but the rest of the family got left behind amid the chaos. 
Nguyen, his mother, and other siblings lived in poverty, peddling rice on the streets. Meanwhile, his father, a former employee of the U.S. Information Services in Vietnam, used his contacts to find the family. His effort paid off: in 1981 the parents and nine children were reunited in Washington. 
Family members said Nguyen relished his newly ordered, stable life. In this flourishing new environment, Nguyen and all of his siblings were able to graduate from college and achieve success in their new lives. Nguyen earned a Bachelor's degree in Electrical Engineering from the University of Maryland. For ten years, he worked for the Defense Information Systems Agency. For the past three years, he worked for the Science Applications International Corporation as a Systems Administrator at the U.S. Navy Command Center in the Pentagon. 
Nguyen, 41, loved working at the Pentagon and would buy hats and T-shirts with government logos. He devoured books on the military, particularly about the Vietnam War. 
"This is our second native country. We have gotten so many opportunities," said his wife, Tu Nguyen, 38. "Most of Khang's family and I work as civil servants in the Federal Government." Tu Nguyen, her eyes dry after several days of crying, said she hadn't been able to tell their four-year-old son, An, what happened to his father. On the afternoon of September 12, the Pentagon arranged for Khang Nguyen's car to be towed from the Pentagon parking lot back to their home. Family members said that the little boy jumped up and down, pressing his face against the car windows, looking for his father. 
"He was lucky; he was born here," Tu Nguyen said quietly. "He never suffered any pain from the war. But now he is four years old, and he has lost his father."
9/11 Pentagon Memorial Heroes
Meet the Heroes
The Pentagon Memorial was created to remember and honor those family members and friends who are no longer with us because of the events of September 11th, 2001 at the Pentagon.