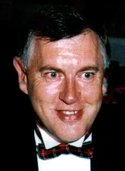 9/11 Pentagon Memorial Heroes
Ian J. Gray
Born September 1, 1946, 55 years old
Ian J. Gray was an action figure with larger-than-life zeal. His hobbies ranged from the eclectic to the everyday. He pored over sci-fi; collected antique puzzles, dragons and cars; traveled to places near, far and exotic; frequented the theater; and cheered for the home teams as a season ticket holder for the Redskins, Ravens and Hoyas.
Most of all, Ian loved his family. He was a devoted father to Lisa, who lives in Timonium, Maryland. He was a great friend to his stepson, LT Charles C. Raley, USN. Ian found a soul mate in Ana Raley, his wife of 8 years. Together, Ian and Ana formed a perfect union.
Ian was born on September 1, 1946, in Mildenhall, England, to Thomas Gray and Kathleen Booth Gray. Most of his childhood was spent in Scotland with his younger sister, Anne.
Ian became a chartered accountant at Cambridge University in England. He came to the United States in 1968 to work for Blue Cross/Blue Shield (BC/BS) in Chicago, and became a naturalized U.S. citizen in 1979. In the early 1970s, Ian moved to Baltimore, Maryland, where he continued with BC/BS. Next, he joined McBee Associates, a healthcare finance firm based in Columbia, Maryland, where he later became a principal. For 11 years, Ian served on the board of directors of Baltimore Medical System, where he held positions of treasurer, finance committee chair and retirement committee member. He also enjoyed volunteering with the Special Olympics and the Art Deco Society of Washington.
Ian lived in Washington, DC with his wife, Ana.
9/11 Pentagon Memorial Heroes
Meet the Heroes
The Pentagon Memorial was created to remember and honor those family members and friends who are no longer with us because of the events of September 11th, 2001 at the Pentagon.