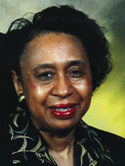 9/11 Pentagon Memorial Heroes
Angelene C. Carter
Born February 6, 1950, 51 years old
Angelene, a much loved and respected wife, mother, family member, co-worker and friend, has left behind a strong legacy. Angelene is survived by her loving husband, Fred A. Carter; her mother, Leona D. Cash; two daughters, Angenette Cash and Freddye Jean Carter; three stepdaughters, Venus Scott, Victoria Carter, and Cheryl Carter; two sisters, Linda C. Reid and Deloise C. Thorne; and two brothers, Claude and Donnie Cash. She is predeceased by her father, James William Cash; a sister, Shirley T. Johnson; and a brother, James William Cash Jr.
Angelene was an "ordinary" person whose God-given vision and mission was to accomplish "extraordinary" goals in life. Her philosophy on life was validated every day by her quiet character and conduct, by insuring that her work assignments and performance supported the level of services and expectations of her superiors and professional peers. She exhibited outstanding strength and leadership, which served as an example to her family, co-workers, church and friends.
Among the strong attributes that Angelene demonstrated were patience and prudence, advocacy for teamwork and, of utmost importance, a ministry of encouragement built around great subjects such as God's sovereignty, power, compassion and forgiveness. After a full day of regimentation, she would conclude the day with a personal Bible meditation and reflection period followed by prayer. She was a valued member of the St. Paul Baptist Church of Capital Heights, Maryland, where she was a member of the Adult Usher Board and various Bible Study Groups.
Angelene moved steadfastly and cautiously to provide a positive and clearly defined work and family structure. She was a very focused and results-oriented person whose plan of action included responding in an exemplary fashion to whatever she was asked to do, and paying strict attention to operational details. Angelene was also a dedicated servant of her nation. She gave twenty-six years of devoted government service, the last eight years in the Pentagon where she was a staff accountant for the Department of the Army. She loved her job and the people with whom she worked.
Angelene was an active and creative explorer, independent, self-confident and an inquisitive learner. She was truly a loving gift of God, and will be missed by everyone who had the pleasure and honor to know her.
9/11 Pentagon Memorial Heroes
Meet the Heroes
The Pentagon Memorial was created to remember and honor those family members and friends who are no longer with us because of the events of September 11th, 2001 at the Pentagon.