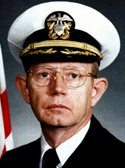 9/11 Pentagon Memorial Heroes
CAPT Lawrence D. Getzfred, USN
Born May 29, 1944, 57 years old
Lawrence Daniel Getzfred was born May 29, 1944 in Elgin, Nebraska, to Ralph and Irene Reicks Getzfred. His parents had initially named him Lawrence Dean, but when it came time for his baptism, the priest, Monsignor Theodore H. Buelt, christened him as Lawrence Daniel, insisting that Daniel was more appropriate. Larry Dean would become an alias listed on his military record.
Captain Getzfred enlisted in October 1963, after graduating from St. Boniface High School in Elgin in 1962. He followed his older brother, Robert, into the Navy. Three other brothers, James, William and Ronald, would enlist in the Navy after he did. Combined, the five brothers have 100 years of Navy service. William, still on active duty, is a Navy Commander (select) stationed in Lemoore, California. Larry also has two younger brothers, Mark and Darrell.
Captain Getzfred began his Navy career as an Antisubmarine Warfare Technician in a squadron of P-3 Patrol and Reconnaissance aircraft, an aircraft that would play a large part in his Navy career. After serving four years, CAPT Getzfred remained in the Naval Reserve while attending DeAnza College and Santa Clara University, Santa Clara, California. He graduated in 1972 with a degree in Mathematics.
After completing one year of graduate studies in education, he received his California teaching credentials. After receiving his degree, CAPT Getzfred completed Aviation Officer Candidate School in Pensacola, Florida in December 1972 and was commissioned an Ensign. In July 1973, he received his wings and was designated a Navy Flight Officer. From there he joined VP-6 and served in a number of posts, including navigation officer, assistant training officer and assistant tactics officer. He was also designated as a Tactical Coordinator, Patrol Mission Commander and Patrol Plane Tactical Instructor.
In 1977 he was selected to serve as a Tactical Coordinator Instructor at the P-3 training squadron, VP-31, in Moffett Field, California. This tour of duty was three years. From 1980 until 1983, he was selected for a personal exchange program with the Royal Air Force. He was stationed in Kinloss, Scotland flying in Royal Air Force Nimrod aircraft.
On October 24, 1980, Getzfred married Patricia Grooss at St. Mawgan, England in Cornwall. Pat is a native of Morton, Illinois and is a Montessori teacher. They have two wonderful daughters, Larissa, 12, and Kristina, 11.
His next tour of duty was on the staff of Patrol Wing 10 at Moffett Field, California from 1983 to 1984. He then joined VP-46 for his department head tour serving as the Safety, Administrative and Training Officers.
Again, recognized for his leadership, he was selected for command at sea. In 1987 he became executive officer of VP-40; a squadron of P-3s based at Moffett Field, California. From there he led his squadron on deployment to Misawa, Japan and Kadena, Okinawa. He then assumed command of the squadron from July 1988 to June 1989. After completing his command tour, he earned his Master's degree in Foreign Affairs and Strategic Planning at the Naval War College in Newport, Rhode Island.
CAPT Getzfred spent the next three years as an action officer on the Joint Staff at the Pentagon. He had significant experience in political and military strategic planning, particularly for Europe. Recognized for this, CAPT Getzfred served in the Strategic Planning and Policy Department of the Joint Staff. In this capacity he was the principal military representative advising the U.S. ambassador in Vienna, Austria in negotiations for the Open Skies Treaty and preparing testimony given during ratification hearings for the treaty before the Senate Armed Forces Committee.
He was promoted to the rank of Captain on October 1, 1993 after being reassigned to the staff of Commander, Patrol Wings Pacific in Hawaii. There he served as the Force Training Officer responsible for the training for ten P-3 squadrons. He also played a role in the relocation of several squadrons during Congressional efforts to reduce the number of military bases in the United States. He assisted in the decommissioning of two squadrons and served as the Chief of Staff of Patrol Wings Pacific.
CAPT Getzfred reported to the Pentagon on the staff of Deputy Director of Plans, Policy, and Operations (OPNAV N3/5). He served as Duty Watch Captain and then as Branch Head for Joint Operations and Plans. He was a proactive advocate of employing reservists within the Navy Command Center. As such, he became the "Sea Daddy" for all Naval Reservists on the active duty period they would serve within the Naval Command Center. On September 11th he was at his duty station in the Navy Command Center when the hijacked airliner struck the building.
Larry was a wonderful husband, father, brother, son and naval officer. Throughout his career he served in a number of positions that placed him in the role of teacher, a job that he had once considered as a civilian career. He was a great teacher and leader.
His awards and decorations include: Meritorious Service Medal (two), Navy Reserve Meritorious Service Medal, Navy and Marine Corps Commendation Medal (two), Navy and Marine Corps Achievement Medal (two), Air Medal (two), Navy Unit Commendation (two), Good Conduct Medal, National Defense Service Medal (two), Armed Forces Expeditionary Medal, Republic of Vietnam Campaign Medal, Republic of Vietnam Armed Forces Meritorious Unit Commendation (Gallantry Cross Color Medal with Palm), Republic of Vietnam Meritorious Unit Commendation (Civil Actions Medal, First Class Color with Palm), Sea Service Deployment Ribbon (four), Navy and Marine Corps Service Ribbon, Coast Guard Special Operations Service Ribbon, Coast Guard Meritorious Unit Commendation, Meritorious Unit Commendation, Legion of Merit (posthumously) and Purple Heart (posthumously).
9/11 Pentagon Memorial Heroes
Meet the Heroes
The Pentagon Memorial was created to remember and honor those family members and friends who are no longer with us because of the events of September 11th, 2001 at the Pentagon.