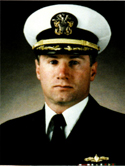 9/11 Pentagon Memorial Heroes
CAPT Gerald F. DeConto, USN
As director of the current operations and plans branch of the Navy Command Center, CAPT Gerald F. DeConto, 44, was organizing the Navy's response to the World Trade Center attack when he died in the crash at the Pentagon.
The weekend before he died, DeConto drove his green Ford Explorer – with the license tag "FISH79" for his nickname at the U.S. Naval Academy – to a family reunion at his brother's home in East Lyme, Connecticut. The family ate clam chowder, sausage and flank steaks, and played badminton and basketball.
DeConto accompanied his mother back to Sandwich, Massachusetts, the seaside town on Cape Cod where he was a high school soccer star, and left for Alexandria on Monday afternoon. That night, he sent an e-mail to his mother telling her he had arrived safely. She had just opened an e-mail account, and it was the first – and last – message she would receive from her son.
"We're so lucky we had that weekend all together," Patricia DeConto said.
Gerald DeConto, who was divorced and had no children, stayed in close touch with his mother, two brothers, and two sisters. He enjoyed sailing, running with his two dogs, and giving his brothers pointers about coaching soccer.
The son of a schoolteacher and town building inspector, DeConto received a Physics degree from the Naval Academy, where he played rugby, in 1979. He reported to the U.S.S. Excel as a damage control assistant, later serving as engineering officer and executive officer. He became operations officer on the U.S.S. Fresno in 1982.
He attended the Naval Postgraduate School in Monterey, California from 1984 to 1986, receiving a Master's degree in Mechanical Engineering. He was chief engineer on the U.S.S. Hewitt from 1986 to 1989, and was then an aide to the Deputy Chief of Naval Operations for Surface Warfare. He was named executive officer on the U.S.S. Lake Erie in 1991.
DeConto was assistant operations officer for Carrier Group 7 from 1994 to 1997. He then received a Master's degree in National Security and Strategic Studies at the Naval War College. He was commanding officer of the U.S.S. Simpson from 1998 to 2000, and chief of staff for the Standing Naval Force Mediterranean from April 2000 until May 2001.
He had been named recently to his new post. But what he really wanted was to lead his own ship again, his mother said: "Once they're captain, they're never satisfied with another job. That's what he was waiting for." Unbeknownst to him, CAPT DeConto had screened for Major Command as of September 1, 2001.
His decorations include the Purple Heart and Legion of Merit (posthumously), three Meritorious Service Medals, two Navy and Marine Corps Commendation Medals, two Navy and Marine Corps Achievement Medals, Navy Meritorious Unit Commendation, Armed Forces Expeditionary Medal, Navy "E" Ribbon, Sea Service Deployment Ribbon and National Defense Service Medal.
He was married to Anneva Miguel DeConto for 12 years.
He is survived by his mother, Patricia L. DeConto of Sandwich; two brothers, David J. DeConto of Sandwich and Raymond E. DeConto of East Lynn, Connecticut; two sisters, Marie DeConto-Thomas of Forestdale and Dale K. Choate of Mashpee; five nieces; and one nephew.
CAPT DeConto was buried with full honors at Arlington National Cemetery on November 2, 2001.
9/11 Pentagon Memorial Heroes
Meet the Heroes
The Pentagon Memorial was created to remember and honor those family members and friends who are no longer with us because of the events of September 11th, 2001 at the Pentagon.