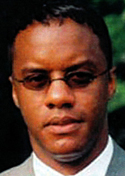 9/11 Pentagon Memorial Heroes
Scott Powell
Born June 20, 1966, 35 years old
Friends keep calling to comfort Art Powell – and themselves. His identical twin, Scott, worked at the Pentagon, and they call wanting to hear Scott's voice in Art's. 

"Some people just want to talk and hear that familiar tone and cadence," said Art, 35. 

Growing up, their parents didn't dress them alike or give them rhyming names – thankfully, he said. But the two stuck together at Washington's Duke Ellington School of the Arts and were college roommates. And they shared a love of music, forming their first band in third grade and starting a production company as adults. 

They called it Dem Twinzz Productions, and sometimes they'd go to conventions in matching outfits to promote their music business that produced titles for some big labels. Then they became Mable's Twinzz, the name a tribute to their grandmother. 

They were classically trained sons of a dancer and a musician who also taught performing arts. Scott, a father of three who lived in Silver Spring, played bass, acoustic guitar and keyboard, and incorporated thousands of computer-generated sounds into his music. Together they played rhythm and blues, pop and jazz and, lately, some traditional Somali and Arabic songs while on tour in Sweden and the United Kingdom with a group called Shego Band. 

After speeding through the course work, he became a Microsoft Certified Systems Engineer, which led to a job at the Pentagon where he worked as a civilian contractor for BTG Inc. 

"He really busted his butt and got through things," said Art, who followed suit. For a while, the brothers even worked in the same Pentagon office. Music – and the Pittsburgh Steelers – remained their passion. Art now has an office in a government building downtown. 

They didn't give each other birthday presents because "we did things for each other all year long," Art said. 
The family is setting up a scholarship fund at Ellington. That, and his children, will be Scott's legacy. 

Art said he wants to spend time with the children, one of whom calls him "Daddy Uncle." But, he said, "I think it would be sort of traumatic for me to be around them right now… They might have thought that maybe their father was found."
9/11 Pentagon Memorial Heroes
Meet the Heroes
The Pentagon Memorial was created to remember and honor those family members and friends who are no longer with us because of the events of September 11th, 2001 at the Pentagon.