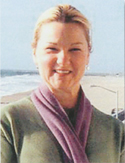 9/11 Pentagon Memorial Heroes
Renée A. May
Born May 13, 1962, 39 years old
The path of my life has been deeply influenced and directed by art. It was at a very early age that I first became aware of my artistic soul – when I was collecting colorful fall leaves for a school project and happened to notice that each leaf was different in color, texture and structure. I saw them not as leaves but as something created by nature's life-giving forces that was an aesthetic wonder, and I was in awe. From this first encounter with nature's art, I have been increasingly drawn to and cognizant of the many diverse forms and nuances of art.
I began my early formative years in rural upstate New York. There I spent a great deal of time amongst nature's beauty. Similar to what I learned from the fall leaves I needed for a class project, I became fascinated with the ornamental variance found in rocks, and I began to collect them. Later, as a teenager growing up near the beaches of Southern California, my thirst for discovery continued. I learned that art was present on sandy beaches and in the warm Pacific waters. Sandcastles were abundant, each one in their individual shapes, sizes and colors, and I began yet another hobby. The activities taking place along the boardwalks, as well as on the beaches themselves, also embodied all that is art. The human physique, displayed so prominently in a variety of ways, was further evidence that art existed in life. Experiences directed my need to learn more about the interconnection of life's many art forms and how this influences all life on a daily basis. Indeed, how they are intertwined with one another and with life in general continues to stimulate me to this day.
As I developed, I also became aware of art in literature and became a voracious reader. I consume books with a passion that would rival the passion Auguste Rodin conveyed through sculpting. Hence, I was led to English literature as my undergraduate focus in college. Through literature, I discovered that the world is filled with many sensual and physical wonders, which I was compelled to experience first hand. This overwhelming desire helped me choose my initial career path as a flight attendant.
I am now in my thirteenth year as a flight attendant, throughout which I have been on a great and wondrous adventure. My profession affords me an opportunity that many people only dream about. That is, the ability to visit and to also physically, emotionally and intellectually explore a variety of cultures. One of the most exotic and stimulating experiences that I have had was when I lived for a summer in Seoul, Korea during the early 1990s. Not only was I fascinated with the people, their culture, customs and every day life, I was also affected by the importance that nature has in all aspects of historic and contemporary Asia. I have also spent lengthy periods of time in Europe, South America, Canada and the Caribbean. From these and other cultural experiences, I have a more defined understanding and appreciation for how these cultures have been influenced.
All of this culminated in my great love of and respect for the many wonders found in the museums around the world, and my desire to share my knowledge and experiences with others. Becoming a docent seemed to be the perfect vehicle by which I could help others achieve a better understanding of how life is influenced by art and art is influenced by life. Art in life is never ending and it is not something that stays the same; it continues to live and grow, as does an individual.
9/11 Pentagon Memorial Heroes
Meet the Heroes
The Pentagon Memorial was created to remember and honor those family members and friends who are no longer with us because of the events of September 11th, 2001 at the Pentagon.