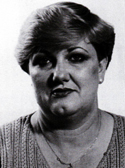 9/11 Pentagon Memorial Heroes
Martha M. Reszke
Born June 19, 1945, 56 years old
Martha M. Reszke, 56, was a civilian who had worked for the Army budget office for the past eight years. Friends and family describe her as a dedicated worker, but an even more dedicated mother, wife and friend.
To "everyone who came into her life, she gave," said her husband, Jim. "The thing about her was that she was genuinely kind and honest."
Jim Reszke said he knew right away that the hijacked plane had slammed into the Pentagon near where his wife worked, but nevertheless held out hope while his son-in-law, one of the rescue workers, searched for her office.
Late Tuesday, he called and said, "I don't know what to tell you," Jim Reszke recalled. "I knew what he meant."
Asked what his wife liked to do in her spare time, he smiled momentarily and said, "You want to see?"
In the back yard of their Stafford County home, overlooking Aquia Creek, sits a series of plant and flower beds bordered by a long, serpentine brick wall. Against the house and surrounding the pool are more plants and trees.
"She was everybody's gardener," he said. "Her therapy after work was this garden. She told you how it should be, and you did it. She was the designer. I was the digger."
He'll have to handle both duties now. "If I don't, she'll haunt me," he said.
9/11 Pentagon Memorial Heroes
Meet the Heroes
The Pentagon Memorial was created to remember and honor those family members and friends who are no longer with us because of the events of September 11th, 2001 at the Pentagon.