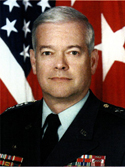 9/11 Pentagon Memorial Heroes
LTG Timothy J. Maude, USA
Born November 18, 1947, 53 years old
LTG Timothy J. Maude, a soldier and leader who was serving as the Army's Deputy Chief of Staff for Personnel, was killed in the attack on the Pentagon on the morning of September 11, 2001. 
Lieutenant General Maude was born in Indianapolis, Indiana on November 18, 1947. He entered the United States Army as an enlisted soldier on March 21, 1966. Upon completion of Officer Candidate School in February 1967, he was commissioned a Second Lieutenant in the Adjutant General's Corps. He received a Bachelor of Arts degree in Management from Golden Gate University. He was also awarded a Master of Arts degree in Public Administration by Ball State University. His military education included completion of the Adjutant General Officer Basic and Advanced Courses, the United States Army Command and General Staff College, and the United States Army War College. 
Lieutenant General Maude understood the human spirit. He understood that the well being of the Army – soldiers, civilians, retirees, veterans and their families – is inextricably linked to our readiness as a force. The success of the "Army of One" campaign demonstrates his broad understanding of human nature and his creative instincts in delivering on that understanding. He understood that young men and women today are looking for something greater than self and are able to accept the notion of duty to country as the noblest of endeavors. 
Lieutenant General Maude was a soldier for more than 35 years, during which time he served in a variety of important command and staff positions, culminating in his assignment as the Deputy Chief of Staff for Personnel, United States Army. Other key assignments included service as the Assistant Deputy Chief of Staff for Personnel, and Director, Military Personnel Management, United States Army; Deputy Chief of Staff for Personnel, United States Army Europe and Seventh Army; Director, Enlisted Personnel Management, United States Total Army Personnel Command; J-1, United States European Command; Commander, United States Army Enlisted Records and Evaluation Center; Commander, 1st Battalion Troop Brigade, United States Army Soldier Support Center, Fort Benjamin Harrison, Indiana; Adjutant General and Deputy Chief of Staff G-1, 2nd Infantry Division; and Chief of Staff, 8th Personnel Command. 
Lieutenant General Maude's influence will continue to strengthen the Army's readiness and our Nation's defense of freedom and liberty for years to come. His love of soldiers and his devotion to the Army was deep and genuine. Simply put, Lieutenant General Maude loved soldiers; he loved the Army; he loved this wonderful country. His every action cheerfully reflected this commitment to duty. 
Lieutenant General Maude was awarded the Distinguished Service Medal, Defense Superior Service Medal, Legion of Merit (with three Oak Leaf Clusters), Bronze Star Medal, Purple Heart, Meritorious Service Medal (with four Oak Leaf Clusters), Army Commendation Medal (with two Oak Leaf Clusters), Army Achievement Medal, and the Army General Staff Identification Badge. 
As a mark of respect to the memory of Lieutenant General Maude, the National flag was flown at half staff at Arlington National Cemetery on October 6, 2001 from reveille until completion of interment IAW AR 600-25. 
Lieutenant General Maude is survived by his wife, Teri Maude, and their daughters, Kathleen A. Koehler and Karen E. Maude.
9/11 Pentagon Memorial Heroes
Meet the Heroes
The Pentagon Memorial was created to remember and honor those family members and friends who are no longer with us because of the events of September 11th, 2001 at the Pentagon.