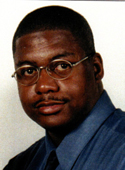 9/11 Pentagon Memorial Heroes
IT1 Johnnie Doctor, Jr., USN
Born October 21, 1968, 32 years old
He was the rock of the family, the supporter of friends, the good son who helped take care of the family as a youth, the star athlete who loved sports.
But at heart, Johnnie Doctor, Jr. was a Navy man.
"He loved everything about the service," said his wife, Andrea, "It was his family, too." The two were married in 1995 and lived near Bolling Air Force Base.
Doctor, 32, is counted among the Pentagon's missing. He was an information systems technician first class, a job he relished, his wife said. He was in the Navy 14 years, traveling from Japan to Jacksonville, Florida, to Russia and Australia. He enlisted at Fort Jackson, South Carolina on August 19, 1986. His duty stations were: RTC San Diego, August-October 1986; Services School Command, San Diego, October 1986-February 1987; U.S.S. Whidbey Island (LSD41), March 1987-September 1990; Naval Technical Training Center, Charleston, South Carolina, November 1990-September 1992; U.S.S. Aubery Fitvh (FFG-34), October 1992-August 1994; separated from service August 1994-June 1995; U.S.S. Independence (CV62), August 1995-October 1997; U.S.S. Stark (FFG31), November 1997-May 1999; CNO's office, June 1999. His awards and decorations are: Navy and Marine Corp Achievement Medal, Good Conduct Medal (3), Navy "E" Ribbon, U.S. Coast Guard Special Operations Service Ribbon, Sea Service Deployment Ribbon (3), National Defense Service Medal, and Joint Meritorious Unit Commendation.
On his return from far-flung ports, he'd always bring back a T-shirt or other mementos for his wife and stepchildren, Anthony and Lydeda. "He always knew how much I loved T-shirts," his wife said. "He would never forget."
Fellow sailors were treated like kin as well. Whether they needed a little cash, a ride or some advice, he was there for them, Andrea Doctor said. "I've gotten calls from across the world from people who he's touched," she said, "No one can quite believe this has happened."
As much as he loved the service, Johnnie Doctor wanted more. He had recently started criminology classes at the University of the District of Columbia, with thoughts of becoming a state trooper, Andrea Doctor said. "He was so full of life and excited for what was about to come."
9/11 Pentagon Memorial Heroes
Meet the Heroes
The Pentagon Memorial was created to remember and honor those family members and friends who are no longer with us because of the events of September 11th, 2001 at the Pentagon.