Pentagon Memorial Fund, Inc. Appoints Kelly Dupont to the Board of Directors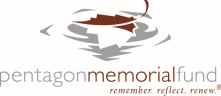 September 22, 2023
For Immediate Release
Pentagon Memorial Fund
Board of Directors
Pentagon Memorial Fund, Inc. Appoints Kelly Dupont to the Board of Directors
Dupont Brings a Strong Commitment to Serving the Military and Builds on the Strong Relationship with Amazon Web Services
ARLINGTON, VA – The non-profit Pentagon Memorial Fund, Inc. welcomes Kelly Dupont to the Board of Directors as it continues to make progress toward a visitor education center at the site of the 9/11 Pentagon Memorial.
Kelly currently leads the Amazon Web Services (AWS) relationship with the US Navy and US Marine Corps globally. Kelly also leads AWS DoD strategy and engagement in the U.S. Indo- Pacific Command region. The Pentagon Memorial Fund will benefit from her experience and insight on strategy, partnership and execution.
The Pentagon Memorial Fund, Inc. is currently raising funds to establish a visitor education center at the Pentagon Memorial site honoring the 184 lives lost on September 11, 2001, when terrorists hijacked American Airlines Flight 77 and crashed it into the Pentagon. Unlike the Flight 93 National Memorial in Pennsylvania and the 9/11 Memorial in NYC, the Pentagon Memorial does not yet have a visitor center to educate and inform the more than one million annual visitors to the hallowed site. The Pentagon Memorial Fund team is working to secure private and public sector funds to realize the visitor education center by 2026, the 25 th observance of the 9/11 attacks. The current memorial was dedicated on September 11, 2008.
"Amazon Web Services has long been a strong supporter of our efforts to remember 9/11 and the 184 heroes lost at the Pentagon. They are a key contributor to the Arlington community and we look forward to continuing our work with Kelly and the AWS team," said Pentagon Memorial Fund, Inc. Board Chairman and President Sean T. Connaughton. "As we pass now the 22 nd remembrance, accomplishing this mission will help us educate future generations of Americans about the devastation caused by those bent on destroying our way of life and the resilience of a diverse citizenry capable of mustering the collective courage to remember and learn from tragedy."
When completed, the 9/11 Pentagon Memorial Visitor Education Center will be located within walking distance from the Pentagon Memorial and in proximity to Arlington National Cemetery. The design of the visitor education center is currently under review by the Commission of Fine Arts and the National Capital Planning Commission. The Southern Expansion Project at Arlington National Cemetery is currently framing the boundaries of the future site of the visitor education center.
Pentagon Memorial Fund Contact:
Press Relations – Pentagon Memorial Fund
(202) 417-6590